From: Eric Holmlund
Written: Tuesday, 10:53AM
Dear website owner,
If you're reading this page right now, I can only assume that you've got some sort of an online business.
And that probably means you've worked hard in order to...
Build a website
Create a product or service
Drive traffic to it

My question for you today is...
Do the graphics on your website adequately represent the VALUE of your product or service?
After all your hard work, it would be a shame to give the wrong impression.
The fact is, many sellers of digital products (like ebooks, software, etc) are giving a BAD impression and making their products look like trash.
And the truth is, nobody wants to buy trash! But that's exactly what's in the visitors' minds when they see a website with bad graphics representing the product.
I mean, don't get me wrong. You may have the best product in the world, but if your graphics look trashy, your prospects might assume that your product is equally low quality.
It's just a psychological association that people make.
Here's a simple example...
I like movies, and I watch a lot of them. But of course my time is limited, so I have to be selective as to which ones I choose to watch.
And whether I'm in a DVD rental store, or on Netflix, or on Apple TV... my method is basically the same...
I skim through the COVERS and when one catches my eye, I'll take a closer look at it and see what the movie is all about.
Unfortunately, I'm probably skipping over a lot of good movies, but if the cover looks bad I'm not going to waste my time on it.
You know the old saying... "Never judge a book by its cover?"
Well almost NOBODY lives by that saying. Everyone judges books (and other things) by their covers.
So when it comes to selling digital products on the Internet, it's EVEN MORE important to have a good cover!
Why? BECAUSE...
Unlike the offline world of brick-and-mortar stores, your web-based visitors can NOT pick up your product and physically hold it to judge it's quality. They have to make their judgement based upon the content of your sales page, and your cover graphic is one of the main components that helps build perceived value in your product.
As I said... if your cover graphic sucks, they might assume that your product also sucks.
And that's where I'm going to help you today...
In the past, if you wanted a good Ecover, you had to do one of the following...
Pay a nice chunk of money to a graphic designer to make one for you.

OR
Have some graphics skills AND own graphics software like Photoshop.

BUT thanks to this great new software called Ecover Engine...

Now YOU can create stunning Ecovers for ebooks, software, CD's, DVD's and more...

WITHOUT paying hefty fees to a graphic designer, and WITHOUT owning any fancy graphics software like Photoshop!


Take a look below at the type of Ecovers you can create with Ecover Engine:
#1) Software box

#2) Software box

#3) Ebook plus media

#4) Software box - open flap

#5) Large ebook

#6) Ebook

#7) Report/small ebook

#8) Box with disc

#9) Membership card

#10) Membership card

#11) CD or DVD

#12) CD with case

#13) DVD with case

#14) CD/DVD slip case

#15) Box

#16) Two box set

#17) Disc with case

#18) Membership cards

#19) Media/video

#20) MP3/media

#21) Discs

#22) Ebook with disc

#23) Two discs

#24) Disc

#25) Report cover

#26) Report cover

#27) Report cover

#28) Media/phone app

Any of the above 28 designs can be customized for your own product with a few clicks, and saved to ANY size, in your choice of JPG, PNG, or BMP format!

Plus all of the above are reversable :-)
With Ecover Engine you will be able to...
Quickly and easily create 28 different Ecover styles on the fly
Not have to worry about installing complex or expensive action scripts
Import .psd, jpg, gif, bmp or .png images directly into the software
Create amazing looking Ecovers with just a few mouse clicks
Easily find the 3D cover for your product or service
Adjust the width and height for your eCover
Adjust the shadow, reflection and highlights for your cover
Import custom graphics or choose from the color palette
Create a transparent background or flip the box horizontally
Save money vs. hiring someone to make your Ecovers for you
Save valuable time vs. creating Ecovers from scratch
Make your website look more professional and clean looking
Boost your conversion rate by creating more perceived value
As you've seen, this Ecover software makes creating 3D ebooks, software boxes, DVD's, & CD's amazingly simple!
But you don't have to take my word for it...
"PROFESSIONAL-LOOKING ECOVERS IN LESS THEN 3 MINUTES!"




Eric,

Ecover Engine is extremely awesome and such a big time-saver. I was able to make 5 new, professional-looking ecovers for my report in less than 3 minutes. Most of the time was deciding on the photo I wanted to use to convey my message.

I am also glad for the information you shared about Paint. I can't believe I have been online as long as I have and didn't know how to make a good (yet simple) graphic in Paint. I guess there's always something new to learn :-).

Anyway, thanks for the software. This is one of the best "no-regret" purchases I have I made in a long time. And that's really saying something because you gave good value for a small price.

Thanks again Eric!




- Bryan A. Jones
http://www.AskBryanJones.com
http://www.TheHonestBusinessman.com


"I've had many people comment to me on how professional the graphic looks."




WOW! This is INCREDIBLE!

This software is SO easy to use and now I have a beautiful ebook graphic that adds such quality to my website. I've had many people comment to me on how professional the graphic looks. It is everything that you promised in the tutorial and much more!

Thanks Eric...I pay close attention to your recommendations and products and once again I have not been disappointed!




- Nicki O'Donovan
http://hisheartbeat.com



"EXACTLY WHAT I NEEDED!"




Eric, it is awesome.

In 30 minutes I created three eCovers, and 80% of the time I spent choosing pictures, this is the beauty, only 20% from 30 minutes I needed to work with the software – you can do the math!

It is an amazing package, intuitive, useful, and video training is enough to start using it. I highly recommend it, it is going to save time or outsource money.

Thanks a lot.




- Michaela Cernescu
http://michaelacernescu.com
http://squidooeventlog.com


"MY FIRST DESIGN TURNED OUT BETTER THAN A PROFESSIONAL..."




Eric,

The only thing more impressive than this software was it's price. My very first design turned out better than if a professional web designer had created it and charged me $100.

Thanks Eric...Truly love this software!




- Gary Pettit
http://www.InstantTrafficPaysites.com


If you have ZERO graphics skills... No problem! This software will make it "point and click easy" to create incredible Ecovers!
And if you DO happen to have some design skills... that's great too! You can import your graphics into this software from Photoshop or whatever program you normally use for your preliminary designs before turning them into an Ecover.
The bottom line is that the Ecover Engine software will save you money by enabling you to create amazing Ecovers on demand, any time you need them!
You could pay a graphic artist $67 or more PER Ecover that you need for your business...

OR you could invest in this software today and have unlimited Ecovers at your fingertips... forever!
But before I reveal the crazy price that I'm going to let you grab this program for today, I'm going to toss in a few very nice bonuses to make this the no-brainer of the year...
FAST ACTION BONUSES!
If you grab the Ecover Engine software today, I'm also going to throw in a massive collection of over 300 sales page graphics!
Between your new Ecovers and these graphics, your sales page is sure to make a great impression!
You can simply plug these graphics into your sales page for instant results!
This collection includes both JPG files (ready to use), as well as PSD source graphics if you wish to customize anything.
Here is a SMALL SAMPLING of what you'll be getting in this bonus collection...
Order and Buy Now Buttons...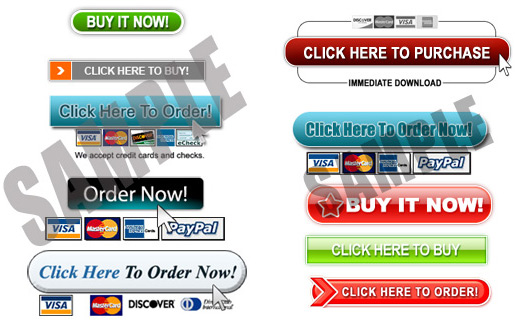 Text And Scribbles ...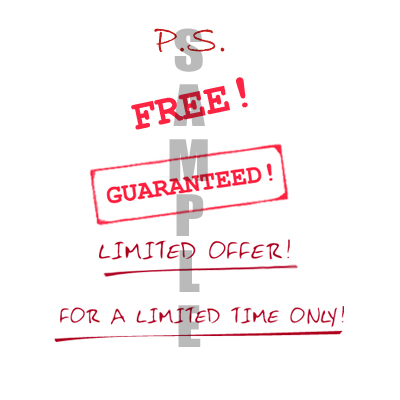 Guarantee Seals ...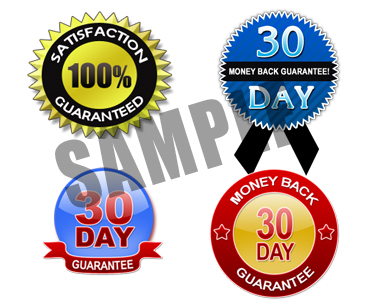 Price Stickers And Signs ...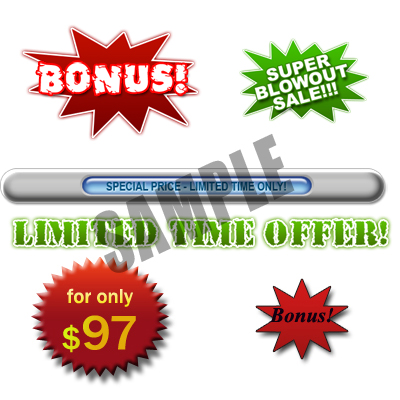 Custom Shapes, Bullets, and Buttons ...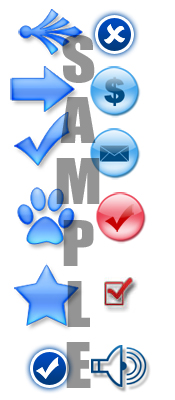 AND MUCH MORE - THE ABOVE IS JUST A SMALL SAMPLING!
Plus I am also going to throw in a tutorial video showing you exactly how to make a customized background image for your website... even if you have NO graphics experience.
I'm telling ya... your sales page is gonna rock!
Between the graphics collection and the extra tutorial video, this Fast Action Bonus is worth...
OVER $100.00 EXTRA VALUE!
OK, so you've seen how the Ecover Engine can save you money over and over again. Instead of paying $67 or more for ONE Ecover, you can simply make your own... any time you want, as often as you want!
You've also seen how it will put more money into your pocket by boosting your conversion rate.
On top of that, I'm throwing in a great Fast Action Bonus valued at over $100.00.
So I think $197.00 is a very fair price to charge for this program...
You can have it today for only...

$197.00

$97.00 Sale Price

But Wait.......
SPECIAL DISCOUNT TODAY:
In an effort to make this program as affordable as possible for those who need it most, I'm offering a special one-time introductory special price for a very limited time.
***SAVE AN EXTRA $70.00 TODAY!!***
YES... You can have the Ecover Engine software for only $27 on this visit!
This is a one-time fee with no monthly costs!
Remember, this offer is ENDING SOON.
YES, I want the Ecover Engine software!

Yes, I want to make great cover graphics!



Yes, I want instant access to the software right now plus the fast action bonuses.



Yes, I want it now for only $27 before the price goes up! (Ending soon)
Click the button below to download the package now...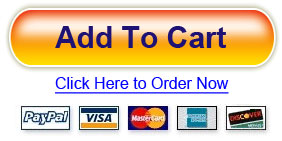 INSTANT ACCESS!
60-Day Money Back Guarantee

Try it risk free today! I believe in this program so much that I'm giving you complete access to the entire program at my risk, not yours!
I'm willing to do this because I believe it will truly help you save time and get more done. If you're not satisfied with the program, just let me know within 60 days of your purchase and I'll refund 100% of your purchase. After 60 days, all sales are final.
Thanks for taking the time to check out this great software.
I think you'll really enjoy using it :-)
Sincerely,
Eric Holmlund
Questions? Please open a ticket at the helpdesk
P.S. - Are you EVER going to need an Ecover at some point in the future? If so, do yourself a favor and grab this now so that you're not stuck paying high prices to a designer or spending weeks trying to figure out how to do it on your own.
The only thing left is for you to say "Yes" and take advantage of this incredible offer before it's gone. Your small investment today is a tiny price to pay for the future success of your business.