It's been awhile since I posted any case studies, so here's one to start off the new year!
I was recently talking to my good friend Nate McHenry, who has also been a long-time Eric's Tips subscriber, and discovered that he's been doing some interesting things online. I thought it was pretty cool how he cashed in on this "rally squirrel" idea, so I conducted an interview to share his story with you.
How and when did you get the idea to use the rally squirrel?
My favorite baseball team is the St. Louis Cardinals so naturally I was watching the playoff series between the Cardinals and the Phillies in the NLDS in 2011 . A squirrel ran across home plate during the game and the Cardinals game back and won the game. ESPN and other networks starting replaying the squirrel's appearance and the buzz phrase "rally squirrel" starting circulating. As I watched the publicity craze I thought to myself… I should buy the domain rallysquirrel.com. You can read more about the rally squirrel on wikipedia.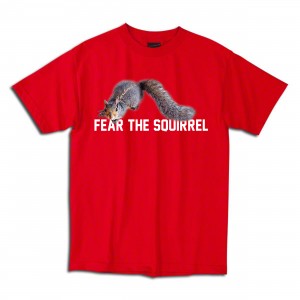 How did you create the graphics for your "fear the squirrel" and other squirrel products?
My sister is a graphic designer so I called her up and she designed the products.
Did you have any concerns about MLB licensing issues, and how did you get around those?
Yes. I did some research on trademarks, branding, etc. I also received a phone call from a guy wanting to buy the domain after I acquired it and we had some traffic going. He threatened the MLB may show concern, but nothing has ever come of it. I don't sell any products with trademark logos or words such as MLB, St. Louis Cardinals, World Series, etc.
How did you build the website?
I built my website through WordPress. I learned nearly all of how to build in WordPress through Eric's Tips and then trial and error.
How did you initially get the word out and get traffic?
Facebook was my initial driving force for traffic and still remains my strongest marketing tool to this day. At the beginning, I did gain traffic through ads on facebook too.
How did you acquire the domain? Was it available?
Actually, when I went to acquire the domain it had already been purchased a few hours earlier. I had a hunch that whoever bought it was trying to flip it because of the sudden craze around the rally squirrel in the sports arena. I contacted the owner and we negotiated for several hours until he sold it to me.
Have you made money from this venture?
I've made thousands of dollars selling hundreds of shirts, hoodies, hats, bumper stickers, yard signs, etc. More than anything I'm a huge Cardinal fan and it has been a really fun experience as a fan and as a business.
How did you process payments?
Paypal.
Did you make the shirts yourself or use a drop shipper?
The shirts were made through a local print shop in my city.
It must have been tough to fulfill all those orders. How did that work out, and would you have done it differently?
Well, my basement became rallysquirrel headquarters real quick. The crazy part was that my family had a Disney vacation scheduled before all the rally squirrel stuff took off. We went to Disney World during the World Series which the Cardinals won. My wife and I processed most of the initial orders and then we hired another person to help us as well. I'm not sure I would have done anything differently. If we had really tried to "go for it" and make big time money I may have used an online resource for ordering and shipping products.
How did you build your Facebook page?
Quite honestly, the facebook page built itself initially because of all the media attention. I did purchase a few ads on facebook. During the playoff games, because the Cardinals ended up winning the World Series that year, the traffic was constant.
What is the goal of your Facebook page?
To have fun. I have used it for business purposes, but mostly it has been a fun fan adventure…and I'd like to get to 10,000 Likes 🙂 …and maybe it will help me get chosen to be in the MLB Fan Cave someday.
Where do you get the content for your Facebook page?
I create it. Sometimes I pull pictures form other fan pages, Cardinals pages, etc. Most of it comes from my mind as I follow the game of baseball and specifically the St. Louis Cardinals.
How have you attracted fans to your Facebook page?
As I mentioned previously-the initial burst (first 1,500 page likes) happened pretty quickly because of the media craze. The rest were built through other fans sharing about our facebook page, reposting or sharing our posts for the most part.
You had a FB post go viral with over 30,000 likes, and almost 1000 shares. How did that happen?
Consistency maybe, mostly luck. I found that one of the players, Yadier Molina, draws a lot of attention if I add his picture or reference him in my posts. He won many defensive awards so I kept posting about his accomplishments and one of them went viral. It was really fun! Up to that point my highest "likes" on a post was around 900 I think. Since then, we have had several posts over 1,000 likes. We may have reached a tipping point in our community.
Did you see any results from that event, such as additional sales or likes to your FB page?
We had several hundred more likes of our FB page.
Are you incorporating any list building other than FB fans?
On our website rallysquirrel.com we have done some list building through contests and promotions for free stuff. We use Aweber.
What have you learned from running this little side business?
I have learned a ton from this adventure. Most of all, I have enjoyed it because being a Cardinal fan is something I already actively did.
This "business" allowed me to do that at an increased level. I learned a whole lot about marketing and reaching an audience. I look at some larger companies that I have opted into to receive their email promotions. One thing that I have noticed is that they send emails on a very consistent basis. Sometimes daily, but always weekly.
I initially wrestled with how many posts I was making, or emails I was sending through our lists. I didn't want to bombard people. I wanted it to remain fun and not just business. I realized however, that all the FB traffic and email traffic was opt in traffic so people wanted to be a part of it. That mini revelation freed me to stay consistent in my communication and keep the rallysquirrel in front of people. That has paid off. We now have a consistent fan base that interacts in our little community.
The Cardinals made the playoffs again last year and during their playoff games traffic increased steadily. I used this time to increase my communication as well. Through our FB page, interviews we have done with radio stations in the St. Louis area, and other ventures the biggest key is that I'm having a blast doing it. I have a passion for baseball and the St. Louis Cardinals so it has truly been an easy effort.
About Nate McHenry:
| | |
| --- | --- |
| I'm a normal guy with lots of dreams. I love Jesus Christ my Savior, my family, my church and they are my priority in life. I have a beautiful wife and three amazing kids. I am the founder of IMchange and spend my working hours (from home mostly) in our organization's efforts. We host mission trips for youth groups both stateside (in the US) and internationally. We also have a few other ventures trying to make the world a better place. I'm an avid sports fan and the St. Louis Cardinals are my favorite team in my favorite sport of baseball (see rallysquirrel.com). I also enjoy reading, games, outdoor stuff, music, and entrepreneurial adventures. | |
I hope you enjoyed this case study. By the way, if you personally have a CURRENT and substantial internet marketing success that you think would make a great case study for Eric's Tips readers (and are willing to share some of your secrets), you can submit your story to my helpdesk for consideration.
As always you are welcome to leave your comments below.
Have a great day!
Tweet