Edition #153
The last time I wrote was while I was standing in front of about 100 people at jvAlert Live in Orlando. Those of you who received that email learned about the live experiment we were doing (creating and launching a product in less than 90 minutes).
For those of you who grabbed a copy of it, thanks for making our experiment a big success! Also, sorry if you found the product to be a bit "half baked" at the time. As you probably guessed, we were simply in a crunch for time 😉 We have since updated the ebook with many more tips, fixed the broken bonus links, etc. If you're interested, you can check it out at:
(link no longer available)
Second, I must tell you that jvAlert Live is an excellent event and I highly recommend that you make plans to attend one. It's truly different from any other internet marketing seminar that I've been to. Specifically, it has a much higher emphasis on networking and forming joint ventures… and as funny as it sounds, the people there are just nicer!
In addition to catching up with some old friends, I met dozens of fantastic people including many Eric's Tips readers, and also my newest JV Partner with whom I am launching a cutting edge web traffic arsenal on the 29th of this month (stay tuned).
I also brought my family along for the trip, so we took a few days to go to Disney World and the beach…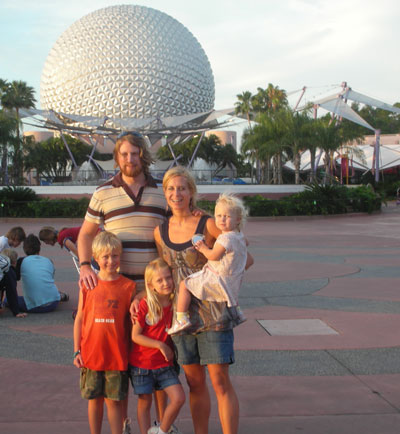 (We went to Epcot one day and Magic Kingdom one day. My wife and I liked Epcot best… of course our kids liked Magic Kingdom)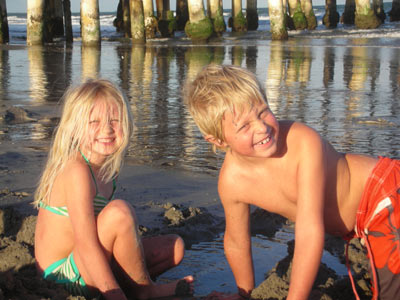 (We also had a nice day at Cocoa Beach… there was hardly anyone there, which was a nice way to relax after Disney World)
OK, now that we've got the fun stuff out of the way, I'd like to tell you about something more serious that I found out about at the seminar.
One of the attendees, Kathleen Donaghy, has been facing some financial hardships. I'll spare you the personal details, but to make a long story short she is close to losing her house.
However, she has just released a new product, and with a successful product launch she can save her house.
Now, please don't pass any judgment, because any one of us could find ourselves in a similar situation at any time.
At the seminar, a number of us pledged to help spread the news about her new product, including myself. It just so happens that it's something that I would have been interested in reviewing regardless of the situation.
As you know, I've been very involved with online video, and have released some video-related products of my own in the past year. What Kathleen has put together is a set of "video opt-in templates", which I think fits perfectly with what I've been teaching and recommending.
There's no doubt that video can help increase your conversion, and a video opt-in box or video squeeze page can improve your opt-in rate to build your list more effectively.
She's actually giving away a FREE video opt-in skin, along with some bonuses. All you have to do is sign up and you can download it instantly.
However, I encourage you to grab a copy of the package she is selling on the One Time Offer. As I mentioned, she could really use any help, and I know she will appreciate your business.
To get the details just go to…
(link no longer available)
I should also mention that Kathleen has been an Eric's Tips subscriber for a couple years now. I met her for the first time at Yanik's Underground Seminar last year, and she's a very kind person.
She's a filmmaker by profession, and a couple years back she dedicated her time and life savings to producing a documentary to capture a very interesting piece of American history.
Here's the trailer of her documentary, entitled, An American Beach:
(link no longer available)
No matter how inspiring the film is, being an independent filmmaker is still a tough way to make a living.
By the way, I'm sure that there are more than a handful of you that are in similar or even worse financial hardships. I want to say this now so that I don't get bombarded by requests…
I wish I could help each of you, but I can not. It just wouldn't be possible for me at this time. However, I want to give you some quick advice.
To summarize it in three words: Have a firesale.
One thing that I've learned through my experience and research is that any special "discount" or firesale is much more effective if there is a compelling reason behind it.
For example, if you have a special 3-day "50% off" sale without a "reason", you might see only moderate success. But if you add a reason for the 3-day event, it could boost your conversions considerably. For example you could say it's a 3-day sale in honor of your birthday, or a 3-day sale to pay for a hospital bill, or a firesale to pay your unexpected taxes, etc.
At first glance, you might think I'm telling you to "exploit" a situation, but the key here is that it's NOT manipulative if it's true AND you have the customer's best interest at heart.
In other words, it would be unethical to make up a fake reason, but if you have a real reason there's nothing wrong with using it.
Some of you might remember my "Wisdom Tooth Firesale" that I held a couple years ago, which paid my oral surgery bills. Then last winter I had a "Frozen Pipe Firesale" to pay for the damage caused by a frozen faucet on our house.
Of course those "needs" pale in comparison to others, but they were good reasons to have a sale. And if you do have a "serious" reason (losing your house, illness of a child, feeding children in Africa), it's all the more reason for a firesale because those are the type of causes that tend to attract the attention of the online community, and lots of marketers may chip in to promote it.
In Kathleen's case, I think she should do a "save my house" sale, but she's too modest. But I can certainly see how it would be difficult to ask for help, and I hope that I would have the courage to do so in a similar situation.
Anyway, hopefully we will be able to propel Kathleen to a successful product launch.
As always you can post your comments here on the blog.
Have a great day!