This is a cautionary tale for online entrepreneurs, with a special warning for Amazon sellers.
A few days ago I read an article about an Etsy vendor who sort of got too big for Etsy…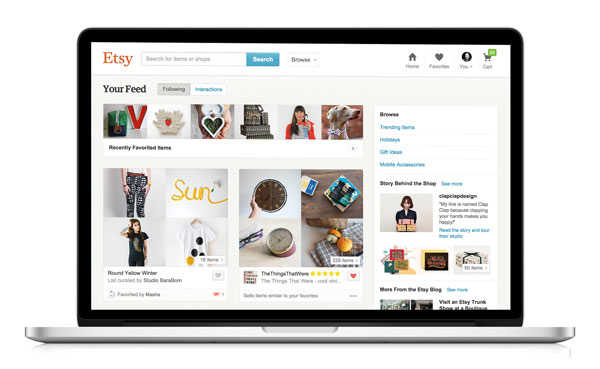 In case you're not familiar with it, Etsy is basically a marketplace for handcrafted goods… artsy things and such. They had 1.5 Million sellers do a combined $1.93 Billion in sales in 2014, so it's getting to be a pretty big operation. It's a great opportunity to market your handmade stuff if that's your ambition. It's a way to leverage the power of the Internet instead of just selling at craft fair booths and similar venues. A potential downside is that your business still may not be easily scalable.
One of Etsy's biggest sellers was a brand called Three Bird Nest, created by Alicia Shaffer. The above referenced article explains the details, but basically as Three Bird Nest grew to $70k a month in sales, the company had to utilize traditional manufacturing to keep up with demand, which became a conflict in the Etsy marketplace which is known for hand-made crafts.
As the article states, last month "Etsy suspended Three Bird Nest. Shaffer says it was over an Etsy customer complaint about an undelivered $20 order — a complaint, she says, that Etsy neither told her about nor gave her the chance to make right."
Therein lies the crux of our discussion today. It's about big businesses that are built on the backs of small businesses, and when those small businesses have fulfilled their purpose (growing the big business), they get pruned. That's one perspective anyway. It's also about small businesses that are built riding the coattails of big businesses, with success leading to a potentially unmerited sense of entitlement.
As someone who has been doing business online in various capacities since 1999, I've seen this pattern several times.
One of the more memorable examples for me was Google AdWords. In the early 2000's AdWords was gaining momentum and doing all they could to get advertisers on board. In 2003 a marketing friend of mine named Chris Carpenter wrote a popular ebook called "Google Cash", explaining how to use AdWords for affiliate marketing. While there is probably no way to prove it, I'd be willing to bet that Chris effectively recruited more new advertisers than any single Google employee during that time. I'm talking about tens of thousands of marketers who were spending untold millions of dollars on AdWords. I was one of them.
Between 2004 (Google's IPO at $85) and 2007 (when the stock topped $700), the viral spread of the Google Cash method contributed to the fierce growth of Google's revenue. While I have no idea how much revenue the affiliate marketers actually added to the bottom line, they almost assuredly boosted every aspect of the AdWords business by bidding up keywords in every niche. This resulted in the growth of Google's earnings (which was and still is almost entirely derived from advertising), and ultimately in billions of dollars of market capitalization.
How did Google thank Chris and his army of affiliates for helping them build their business? Suddenly Google began implementing new AdWords policies, effectively banning the affiliate marketers and suspending their accounts without warning. Back to the Etsy situation, Alicia Shaffer says Three Bird Nest paid Etsy more than $360,000 of fees, making them "one of their top customers". Interestingly, I had paid about that much to Google, but I was still a tiny fish. However, I knew guys who were spending millions on AdWords only to have their accounts suspended too, with no good explanation, no way of talking to a real person at Google about it, and no second chances.
Google was big enough that they didn't need the affiliates anymore, and they realized that the affiliates no longer fit their business model. What it basically came down to was the affiliates were not bringing unique value to the marketplace. While I can certainly empathize with the sour grapes from the scorned affiliates, in retrospect it's obvious that Google made the right decision for their business.
We saw the same pattern repeated when Facebook launched their advertising platform. They profited from the marketers who were quick to embrace the platform and evangelize it as an opportunity (once again well-timed with an IPO). Then when the platform reached critical mass they began to evolve their advertising policy and subsequently shake-out the marketers who were using the platform as a "business opportunity" as opposed to small businesses advertising their own products (this shake-out process is still in progress). Once again, the emphasis seems to be weeding out the advertisers that are redirecting traffic and creating "noise" instead of providing unique value to the marketplace. And once again, those spending millions of dollars are in no way immune.
While it's easy to feel like the victim as a small business owner–and again I can empathize with the extreme frustration of these situations–it's important to remember that the big business has a right to do business in its own way, and is not obligated to keep your small business alive. Successful large businesses are usually good at staying focused on their missions, and will revise their policies from time to time to meet those objectives.
In the case of Three Bird Nest, the final straw was a suspension stemming from a complaint about a relatively insignificant $20 order. Such behavior by a big business seems fickle from the perspective of a small business owner, but it's not uncommon. I've seen Paypal accounts suspended for even lesser infractions. Trust me, the six or seven figures you put through your account last year will not make it immune from corporate risk assessment. If your small business presents a potential risk (financial, reputational, or otherwise) to a big business–even if it is theoretical or unfounded–they may sooner prune you than live with that risk. Risk assessment is often done by algorithmic methods, so it doesn't consider whether you are a good and honest person.
In the internet marketing realm, one of the dependency bubbles that I've seen forming lately is Amazon FBA (Fullfillment by Amazon). While there are some distinct differences between FBA and the previous examples in this article, the lead-up to the present time is a familiar tale. Marketers have been pitching FBA as a formulaic business opportunity. Essentially, you find a product that will sell on Amazon, have it cloned and manufactured overseas, ship it to Amazon's warehouse, and watch the autopilot income roll in. Granted, the barrier to entry is much higher than let's say Google AdWords, but the same principle applies.
We already saw the process happen at least partially with Amazon Kindle. The marketers rushed in with the bizop mentality, and Amazon quickly adapted their policies to quench many of those purported business opportunities. Amazon Kindle was never meant to be a platform for marketers to upload unlimited amounts of junk and profit from it, it was meant to be a marketplace for real book authors and publishers.
Likewise I am doubtful that Amazon's mission for FBA is congruent with the business opportunity that some marketers are claiming it to be. Don't get me wrong, FBA is a business opportunity and Amazon will be the first to tell you so. Full disclosure – I've personally promoted some courses teaching the FBA opportunity (because it is a GREAT opportunity as of today), and I'm currently in the process of building an FBA business of my own. But unlike some of the promoters out there, I've never implied that Amazon wants to flood their marketplace with millions of cloned products from China. Also, whenever I've promoted FBA, I've included a caveat: I don't know how long this window of opportunity will be open.
A few years ago, Amazon began to crack down on counterfeit goods in the FBA program, as documented in this article by Kevin Harmon. After selling 169,013 units on Amazon while maintaining an excellent seller reputation, his account was closed because of one complaint about a counterfeit DVD that probably wasn't even from his inventory. One complaint. Sound familiar?
In the case of Google AdWords, their policies evolved to crack down on users that didn't bring unique value to the marketplace. In the case of Etsy, it's essentially the same principle. If Etsy allows mass production, they are allowing themselves to become a marketplace that doesn't fit within their own mission and definition. In other words, traditional manufacturers do not bring the kind of unique value that defines Etsy. The key concept here is unique value…
Amazon is more broadly defined, because they are the marketplace for everything. However, the test of unique value will ultimately be applied to Amazon's "everything" too. I don't think FBA is going away any time in the near future, but I do think its policies will continue to evolve to meet Amazon's objectives. I have some good friends who have been setting up their FBA business recently and found themselves having to jump through complicated new hoops that were being added to their chosen category (and that happened after they had already received their first big order from the factory).
This article on New Republic criticizing Amazon of cannibalizing the economy reveals some of the business philosophy that drives the policy. The article states,
"…frugality and innovation can only go so far in keeping prices headed southward, especially in the face of the stock market's impatience. Growing profit margins depend, therefore, on continually getting a better deal from suppliers."
In my opinion one confusing thing about FBA is understanding who is the supplier and who is the middleman. At first glance it may appear that Amazon is merely the middleman, taking their cut of the profits as they handle the transaction. In a sense that's true, but an important element of the FBA program reveals that Amazon's intent is not to be just the middleman. You see, Amazon owns the customers and the data. As an FBA seller you are running your own business, but Amazon owns your most valuable asset–your customer list–and they don't even share a copy of it with you. So in that sense, the FBA seller is like a middleman and Amazon is the real business owner.
The article from New Republic proposes that Amazon's profits (like Walmart's) depend on continually getting better deals from suppliers. Common sense tells me one easy way to get a better deal: cut out the middleman. Unlike FBA sellers who have to do painstaking research to figure out what is good to sell on Amazon, Amazon owns ALL the data. They know precisely what will sell, and if they want to increase their profits they can do so by selling those products themselves.
I also predict that Amazon will begin to cut out more of the products that do not bring unique value to the marketplace. If there are ten identical blue shirts with the same design, simply being sold under different brand names, nine of those are not bringing unique value.
So what can you do?
1) As you build a business, consider whether you want to be dependent on one larger business. Piggybacking on a successful company like Amazon can be a shortcut to success, so your answer might be YES. But if you are looking to create a very long-term business you may want to consider other options.
2) Make sure you are bringing unique value to the marketplace, wherever that may be. It won't make you immune to change, but based on the examples above it could improve your chances of longevity in the business. If your business model contradicts the objective of the big business in any way, that's going to be trouble at some point in the future.
3) As you become successful, look for ways to untether yourself from the large business, such as transitioning to your own website and developing your own customer list and traffic sources (as Three Bird Nest is now doing).
4) Plan to to sell out if given the opportunity. As the article from New Republic states, Amazon "has a record of shredding young businesses, like Zappos and Diapers.com, just as they begin to pose a competitive challenge. It uses its riches to undercut opponents on price…then once it has exhausted the resources of its foes, it buys them and walks away even stronger." In the case of an Amazon FBA business, they could technically kill your business without having to buy it. So it may be wise to sell your brand if given the opportunity.
5) If a big business does disrupt your business, don't waste time mourning the loss. I've seen a lot of guys disappear from the online business world after they were slapped by Google or whatever. The ones who last are the ones who bounce back from adversity.
Agree or disagree? Have experience with these things? As always you are welcome to share your thoughts in the comments below!