For the past couple weeks, I've been on the road with my family. We wanted to visit several friends and relatives scattered across the country, so we decided to give our kids the educational experience of a cross country road trip.
In spite of the cost of gasoline, this was by far the cheapest way to visit all the people we wanted to visit. I also did some research and found that for this multi-destination trip, car travel was a more environmentally friendly method of travel than air travel, in terms of CO2 emitted.
It's been a lot of fun, and of course we've made a lot of memories along the way. We started in Colorado, and went as far east as the coast of Connecticut and Rhode Island. Here are some of the highlights…
1) Fishing the "I-80 Lakes"
I-80 is one of the Interstate highways that bisects the nation from coast to coast. Throughout Nebraska, there are over 50 lakes lining the edges of I-80, which were formed when the highway was built. Since the land is so flat, they had to scoop out areas of earth for road building material. The road builders worked in conjunction with fisheries biologists to turn those 50+ holes into clear-watered fish habitats. We stopped and fished five of them, which helped break up the monotony of the road, and also resulted in some nice catches…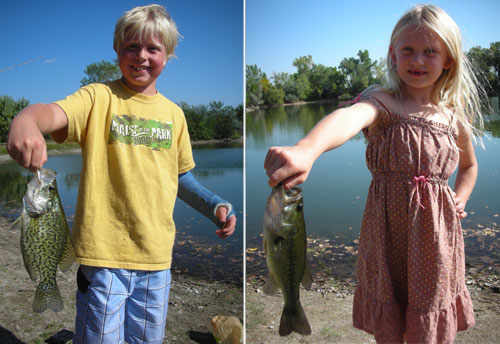 2) Story City, Iowa
We visited some good friends in this tiny city about an hour north of Des Moines. It has the feel of what you would hope and expect a typical American small town to feel like. Some of our highlights included riding the historical Story City Carousel (see picture below), and me catching a nice "smallie" (smallmouth bass) out of a nearby river.
3) Starved Rock State Park
We were hoping to do some more fishing in this beautiful state park in Illinois. However, the Illinois River was severely flooded (as were many rivers throughout the Midwest), and much of the park was closed. We still took a nice hike and got some great views of the Illinois River valley. Here are the kids overlooking the river…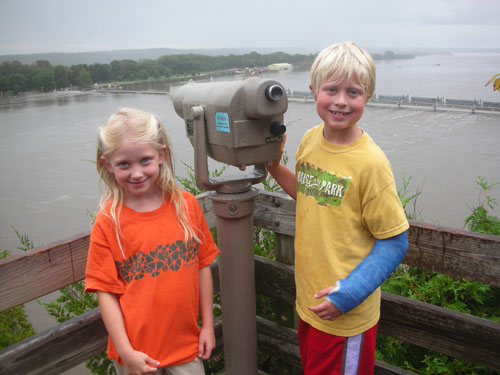 4) Sears Tower
My wife had never been to downtown Chicago, so I thought, what could be a better way to show them than to take them to the top of its tallest skyscraper? The Sears Tower used to be the tallest building in the world, but now it's only the tallest in North America. We were fortunate to visit it on a clear evening, so the views were excellent. Here's a pic I took from the top…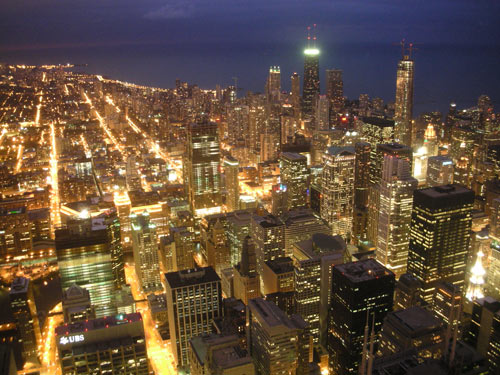 5) Notre Dame University
I had the privilege of sitting in on a class with my brother in law, who is in Notre Dame's MBA program. I actually learned a few things 🙂 . The campus is top notch… here's a pic of the kids in front of "touch down Jesus"…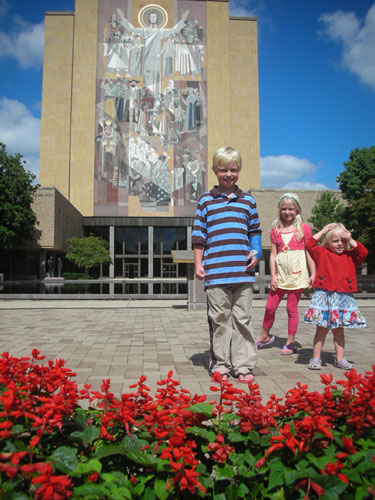 6) Warren Dunes State Park
We love beaches, so we jumped at the opportunity to visit Lake Michigan on a warm September afternoon. The main road to the beach was closed, due to a collapsed bridge, so the only way to access the beach was by hiking over a large sand dune. The result was miles of white sandy beaches almost exclusively to ourselves. The waves were actually big enough for me to do a bit of body surfing!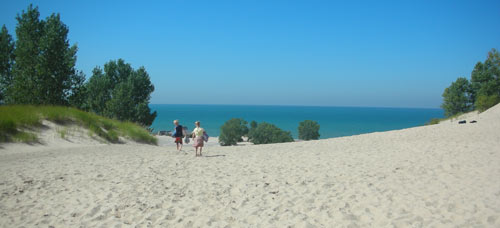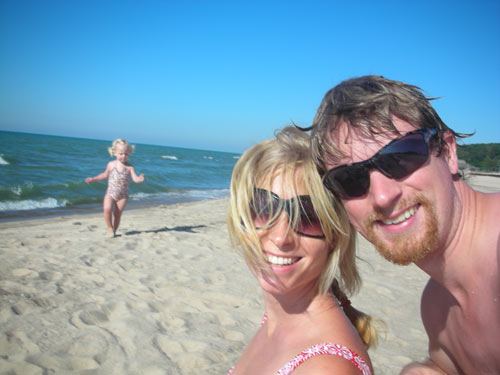 7) Yates Cider Mill
My wife's grandfather took us to Yates Cider Mill, which is on the outer edge of the Detroit suburbs. If you're holding a cup of cider, you don't want to stand in one place for too long or the wasps will find you, but it was worth it… They had the best apple donuts and freshest cider that we've ever tasted.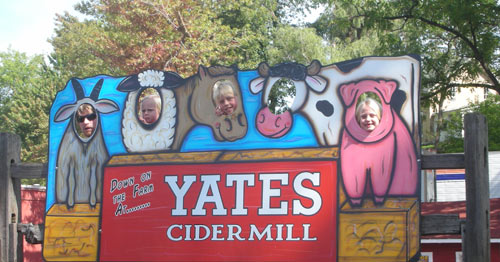 8] Niagara Falls
Having spent many of my childhood years growing up in upstate New York, I'd been to the Falls several times, but my wife and kids needed to see it.
We spent the night on the Canadian side, which also afforded us the opportunity to stock up on the Canadian chocolate bars that we miss so much in the USA (Aero, Mr. Big, Wunderbar, Krispy Krunch, etc.). Here was the view from our hotel room…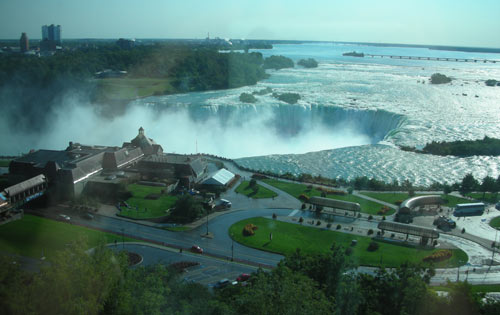 The Falls are still beautiful, and still as powerful as ever…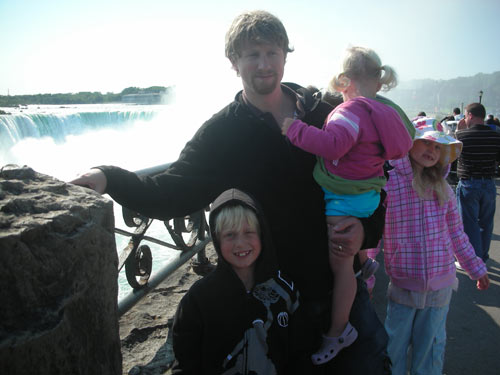 9) More Fishing
OK, so the real highlight here was visiting my grandmother in Connecticut. But catching a big bass out of the pond at her retirement community was certainly a nice perk 😉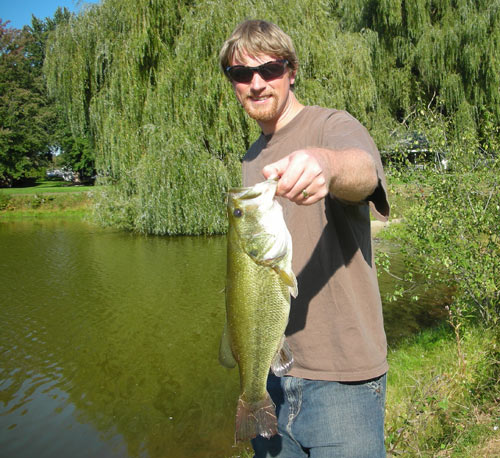 We also visited a "secret" pond with my wife's uncle in Michigan and my son caught a mess of bluegill.
I'm actually more of a trout fisherman, but I love bass fishing too. Come to think of it, I like catching any kind of fish. (All of our fishing was catch and release, in case you cared)
We even stopped at a Bass Pro Shops Outdoor Word on the way home, which is a fun store for anyone who is interested in fishing or other outdoor activities.
10) Mystic Seaport
This tourist attraction in Mystic, Connecticut is fun for adults and kids… especially if you enjoy learning. I think we visited at the perfect time, as the weather was perfect, yet there were no crowds. The best way I could describe it would be sort of a "living" history museum of seafaring America. Definitely one of the coolest things we saw on the trip.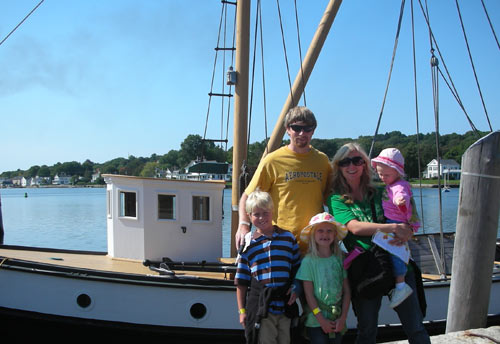 Oh, and we also ate at Mystic Pizza! Yeah, the real place where the Julia Roberts movie was based. I don't know that it quite lived up to it's motto: "A slice of heaven", but it was fun and good.
11) Misquamicut State Beach
After traveling so far, we just had to make sure we truly reached the coast and saw some real Atlantic ocean waves. Visiting this beautiful state beach also allowed us to hit Rhode Island so our kids could cross another state off of their lists.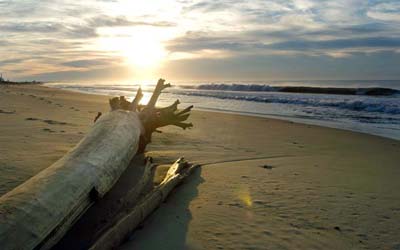 12) Penn's Cave, Pennsylvania
Supposedly this is America's only "all water" cavern and wildlife park.
The boat tour did not disappoint, with a humorous guide and plenty of nice views of the cave.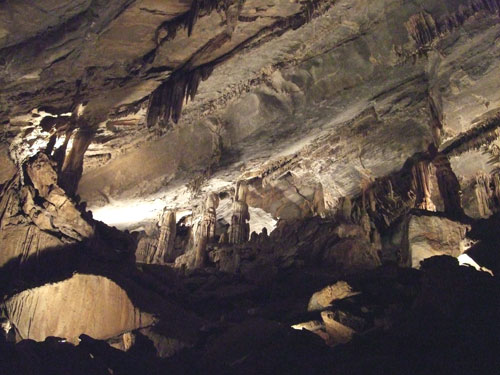 Those are just some of the things I was doing over the past couple weeks. The ultimate benefit was obviously the time spent with my family, and with those we visited. My wife and I also took some time to film a documentary of each of our living grandparents.
I've travelled cross-country many times, and I always enjoy seeing America. Road trips like this one are a great way to see a cross section of the society in which we live.
I'm happy to report that in spite of our economic recession, America seems to be alive and well. From the big cities to the small towns that I visited, Americans are still doing their thing. I did notice some struggles in the retail sector, with stores and restaurants going out of business. But at the same time, I observed plenty of new construction and new businesses being built in every state I visited.
And of course there are problems in the finance and real estate industries. My wife's grandparents are Realtors, with many homes listed, but the potential buyers aren't able to get loans, which makes it very difficult to get deals done. So yeah, people are facing real struggles.
Nevertheless, small towns are having autumn festivals, and people are still finding plenty of reasons to celebrate life. We encountered friendly people from many different walks of life. I felt proud to be a part of this patchwork we call America. I'm confident that whatever happens in the upcoming months, our nation will pull though it.
But this blog is not about politics, and I'm aware that only half of my readers are in the USA… so here's the main point…
Wherever you live, be sure to get out and enjoy the land and the people. Your life will be richer for it.
As always, you are welcome to post your comments below 🙂
Have a great day!