Earlier this month, President Donald Trump delivered his 2019 State of the Union Address, which is basically an annual report for the USA delivered as a speech.
At 82 minutes, it was the third longest SOTU in US history. I guess there's a lot to talk about right now!
Likewise, there's a lot to talk about in the "Internet Marketing" industry right now, but I'm not going to turn it into an 82 minute speech. Instead, I want to address a few key points in this article, with a special emphasis on payment processors and affiliate platforms.
For the sake of this article, I'm defining the IM industry as those who would generally refer to themselves as Internet marketers. This includes infopreneurs, affiliate marketers, content site builders, and SOME service providers and e-commerce vendors. I say some, because most service providers and e-com businesses are outside the IM industry, but there is definitely some crossover.
Within these first couple months of 2019, the IM industry as we know it has experienced some interesting changes. I believe many of these changes are due to PayPal cracking down on certain products/vendors/niches/practices that they apparently deem high risk.
It's not the first time they've done it, nor will it be the last. Like any successful long term business, PayPal understandably manages risk and controls the quality of their service. It's just unfortunate that when BIG companies impose new standards on their own small business customers, those small businesses sometimes get the rug pulled out from under them.
An example would be the Google "slaps" over the years, which applied to their own AdWords program. Many advertisers who had literally spent millions of dollars on Google ads suddenly saw their accounts closed and permanently banned. What added insult to injury was that very little explanation was given, and it was nearly impossible to get in touch with a real person, much less a decision maker who could give answers.
I've heard reports of similar instances now happening with Facebook. These companies get so big, that after awhile it becomes more like dealing with a machine than with real people. It's ironic that the small businesses who get hurt are often the ones who specifically fueled the early profits and success of such big companies.
In other words, it's the "marketers" who usually lose. The marketers are the ones who are focused on profit generation methods on any new platform. They are the ones who implement, innovate, evangelize, and yes– push the envelope when it comes to new opportunities such as new technology.
I've seen it happen enough times in my 20 years of online business experience to call it a pattern. I don't think it means that marketers should stop trying to exploit new opportunities, or even that they should stop pushing the edges of what's possible. There are those who make fortunes by exploiting a short term opportunity at the right time. Inevitably, the window of opportunity closes, but it was worth it for the fortune that was made.
However, it is certainly something to keep in mind when considering the path you want to take with your business. For the most part, I've played it "safe" with my Internet business over the years, and it's been profitable to this day.
I recently conducted a poll of my "JV partners" who have been affiliates of my products. I felt that this would give a better picture of what's happening in our industry compared to polling ALL of my subscribers, because my JV partners are more representative of marketers who are actively working in the business. I received 37 survey results, which I feel gives us some good stats which I will refer to throughout this article.
The first and perhaps most vital stat I will mention is that business thus far into 2019 is not looking up. 57% of respondents reported that year-over-year revenue is flat, 24% reported that revenue is down, while only 19% reported that their revenue is up. While there are many factors that play into those numbers, I believe that the things discussed in this article are certainly a contributing factor.
So how have PayPal's actions impacted Internet marketers lately?
First, they have closed the accounts of some vendors and affiliates. This typically seems to happen without warning. In some cases, an account remains open but is "limited" and can no longer send or receive payments. In other cases, I've seen PayPal close accounts and hold a vendor's money for 6 months. Either of those scenarios is obviously devastating to a small business, and some are unable to weather it.
It seems that certain countries are deemed more risky than others, as many stories seem to originate from non-US vendors (although I have plenty of US based friends who've had these problems too).
In my survey of JV partners, 27% said their business has been negatively impacted by recent changes from PayPal. One could make the argument that I must be hanging out in a bad crowd, but I sincerely don't think that's the case. I would characterize these people as selling and promoting "normal" products through legal and ethical means. Additionally, 9 out of the 37 respondents said their PayPal account has been closed or limited without warning.
One of my partners, whose name is Jon said, "PayPal literally ruined my business and my family lost our home because of it. They are literally… heartless."
Among those with closed accounts, resourceful business owners find solutions like other payment processors, but as of this time PayPal is still a very integral part of the IM industry.
In my survey, 89% use PayPal, 32% use Stripe, 24% use ClickBank, 8% use Authorize.net, and only 1 respondent is using Zift at this time (more on Zift below). (As a matter of quality control, I included StormPay and Western Union on the survey, and none of my respondents took that bait, meaning the results are probably reliable!)
One partner who is a very successful business owner and preferred to remain anonymous said, "Being able to accept PayPal has proven to increase sales compared to our Stripe only launches. Glad we worked out all PayPal issues with their compliance team in 2018."
Because of the wide adoption of PayPal, it may further hurt a business to move to another processor. Therefore some business owners opt to start using a different PayPal account (such as a family member or business associate). From the reports that I've heard, PayPal doesn't take kindly to those who try to beat the system, and will ban subsequent accounts AND accounts that they believe may be ASSOCIATED with them.
Here's an example. Allegedly, PayPal closed the account of a non-US based Internet marketer for unknown reasons. It was told to me by others in the IM industry that PayPal then closed or limited the accounts of many Internet marketers who frequently transacted with the original one that was banned.
This becomes a problem for both vendors and affiliates on any PayPal-based affiliate platform, particularly one that offers instant payments. Let's say for example the platform is JVZoo, and you're an affiliate. You sign up to promote the product of a vendor that seems reputable. You make some sales, which results in payments made FROM that vendor into your PayPal account. Perhaps due to a successful product launch, PayPal decides that the vendor is likely a scammer or spammer. They close the account, and they see that the alleged scammer made a bunch of payments to you, so now they're looking at YOUR account.
Same thing if you're a vendor. You approve an affiliate, and they make some sales. Maybe you paid them instant commissions, or maybe the affiliate won a prize in your affiliate contest so you sent them a direct PayPal transfer. PayPal decides that the affiliate is a spammer (maybe they really ARE a spammer), they see payments from YOU to the spammer, so now you're associated with it.
Because of this phenomenon, our industry has seen some significant changes within some of the major affiliate platforms such as JVZoo and WarriorPlus.
After originally being built exclusively integrated with PayPal, JVZoo has diversified it's payment processors to include Stripe, Authorize.net, and newly added Zift and Payoneer.
Based on what JVZoo has said about its integration with Zift, it seems its direct purpose is to combat the negative experience that their users have had with PayPal. Here's a quote from JVZoo's blog:
"We've even worked with Zift to create some "Best Practices" to ensure your account is never at risk…
Even better, Zift's risk department is committed to working WITH our users in the event of an issue. They'll contact you, explain what their concerns are, and give you a timeline in which to correct the issue. How awesome is that?!"
JVZoo has also added the ability for affiliates to force delayed commissions on their account (rather than the possibility of being paid instantly by a vendor). Here's a screenshot from their blog explaining it:

Similarly, WarriorPlus has added the ability for both vendors and affiliates to force "wallet" payments on their accounts.
With its wallet, WarriorPlus basically acts as an escrow account between the vendor and affiliate. Instead of paying the affiliate directly, the vendor pays the money into WarriorPlus's wallet. WarriorPlus then disburses those funds to the affiliate.
Here is the wallet setting in a WarriorPlus account: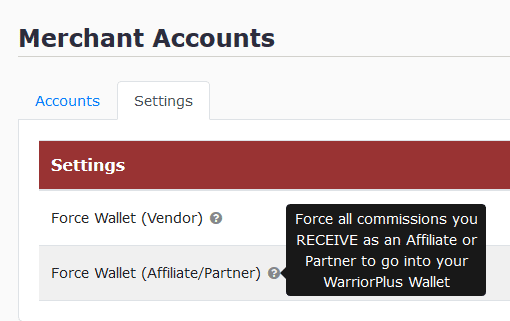 In my survey of JV partners, 40% said JVZoo is their preferred affiliate platform, making it the most popular choice. About 30% prefer ClickBank, and 21% prefer WarriorPlus. Only 8% of respondents said they prefer other platforms, which tells me that there are really only 3 platforms that are seriously contending for the IM industry at this time (again, remembering our narrow definition of the IM industry).
I personally am a fan of all 3 platforms. I've done product launches on all of them, I'm an affiliate on all of them, and I hope to remain friends with all of them. Credentials, not bragging… I've done probably $5M in sales on ClickBank, maybe $2M on JVZoo, and about $250k on W+. I'd like to take a few minutes to elaborate on these 3 platforms as they pertain to today's industry climate.
ClickBank is the oldest of the three, founded in 1998. As some of you may know I started using ClickBank in 2004, and since then they have been sending me money every two weeks without fail. If you've been to ClickBank's HQ in Boise, as I have, then you'll know that they're legit. Nice office buildings, huge staff, big support team, and a cool corporate environment (its parent company, Keynetics, is Idaho's largest privately held tech company).
Back in those early days, it was pretty easy to get a product approved on ClickBank. For a long time I was able to launch products with no approval process, because I was whitelisted by their approval team. At some point they realized the importance of product quality control to the long term success of their business (my assumption would be that it was inspired in part by evolving FTC guidelines for e-commerce, and partly from their own analysis of refunds and chargebacks), and started implementing much stricter approval guidelines.
Even in the early days they were very keen on preventing credit card fraud, and were developing systems for their own business. In 2008 they spun off a sister company, Kount, which is a successful fraud and risk management solution used by some of the world's top e-commerce brands. Needless to say, ClickBank has a heavy emphasis on fraud control, with the technology to go with it.
Now I should note that ClickBank is not technically a payment processor. Their business is set up so that they are the vendor of every product in their marketplace. Because of that structure, I've never had to worry about my PayPal account for ClickBank products. ClickBank accepts PayPal payments (and we can assume they have a special relationship with PayPal due to their high volume; they are not a small business like us individual vendors). ClickBank then pays me.
As far as PayPal is concerned, ClickBank is the vendor, not me. In that regard, ClickBank is taking on a level of risk. They are literally putting their stamp of approval on the product by making it their own.
In that light, they really cracked down on non-compliant products sometime around 2011. You could say they drained the swamp to make sure the scammers and fly-by-night operations were out of their marketplace. I never had any problems there. Even as most of the "how to make money online" products were drained out, my products were always in compliance. (More about product compliance in my comments)
Were some innocent and well-meaning small businesses impacted negatively? Yeah probably, but ClickBank did succeed in getting the bad stuff out of their marketplace.
Around that same year, other affiliate platforms including ClickSure and JVZoo were started for Internet marketers. While I probably couldn't prove it, I believe they were started as a direct response to ClickBank's actions. Those ClickBank refugees (both the good and bad guys) needed somewhere to go and sell their products.
ClickSure quickly gained a bad rap, because it was essentially an off-shore haven based in Mauritius, processing payments through who-knows-where, and hosting the scammiest of products. At some point they may have tried to clean up their act, but it was too late. Today according to ClickSure's site they are no longer conducting business.
JVZoo on the other hand was started in the USA and started gaining traction as the "new place" for the IM industry, with a lot of the "good guys" migrating there.
Compared to ClickBank (a corporate behemoth), JVZoo was light and nimble. They were able to make changes on the fly and quickly innovate solutions to meet the requests of their new customers (the CB refugees). It became a dream platform for many, as they literally turned the Internet marketer's wish list into reality.
According to a press release from JVZoo, their vendors did $75 Million of sales in the first two years.
In their first 3 years, they did $150 Million of revenue, according to an article on HuffPost. Note that the stated revenue was that of JVZoo's clients, whereas for example ClickBank owns its revenue numbers. That's not necessarily a bad thing for JVZoo. It's essentially a simpler business. ClickBank has to report all its revenue to the IRS and report all the profit shares paid out to its affiliates/vendors (I get a 1099 from them every year). JVZoo only has to report their own commission shares that they earn, because the revenue still belongs to the vendors.
According to these statistics from Chris Munch, in the period of 2013-2017, JVZoo has been the platform for 60% of IM launches, WarriorPlus at 29%, while ClickBank's popularity fell to just over 2%. Those stats are based on launch listings on Muncheye, which is an even narrower segment of IM, as it's mainly comprised of HTMMO, bizop, and IM tools. Within that particular segment, Muncheye's importance should not be understated as the place for launch dates to be seen. While JVNotifyPro was the place to be years ago, Muncheye now holds a near monopoly among the bizop crowd. I foresee Chris's influence in the IM industry continuing to grow, especially amidst the changes in affiliate platforms. As launch venues shift, super affiliates will have to go to Muncheye to find out when and where it's all happening.
In February of 2015 I told some ClickBank executives that they should buy JVZoo if they wanted to get the IM niche back (they didn't). In 2016, JVZoo was named to the Inc 5000 list, and again in 2017. According to their Inc profile, JVZoo had revenue of $6.1 Million in 2016, a relatively modest number compared to the combined revenue of its vendors.
The profile also states they have 17 employees, while a recent blog post from JVZoo mentions a team of 15. Either way, its small compared to ClickBank which probably has about that many executives and VP's.
At some point, JVZoo did undergo some sort of acquisition/buyout/change… I'm not really sure what to call it, as it doesn't seem to be public knowledge. And while I've heard much of the story from "insider" friends, there's no reason to share it here.
What is public knowledge is that some sort of dispute arose between parties, and lawsuits were filed. That's known because of multiple public posts that were made, an example of which you can find immortalized here on the Warrior Forum (just don't go there and get sucked into the forum or you'll never finish reading this article!).
My opinion is that the public dispute has probably hurt JVZoo's reputation. Regardless of who's right, lawsuits are usually not a good thing for a business. While JVZoo has continued to innovate and consistently release impressive new features, it seems like their IM market share has dropped in the past year, while both ClickBank and WarriorPlus seem to be on the rise.
Speaking of WarriorPlus, what do I know about it? Not as much. I know it's privately owned by Mike Lantz, and while I probably could have landed an interview with him, I'll save that for another time. It seems that WarriorPlus evolved separately from all of the above platforms. It was essentially birthed out of the Warrior Forum, which is known as the biggest Internet marketing forum (which can be a good source of info, but also a lot of bad info, and again… don't get sucked into it!). More specifically WarriorPlus was made to be an affiliate platform for WSO's (Warrior Special Offers).
(Side note: Warrior Forum was acquired by Freelancer.com for $3.2 Million in 2014. While I think it lends credibility to our industry that a "mainstream" company would buy an IM business, the consensus in the industry seems to be that the forum no longer holds the charm that it used to.)
According to commonly known IM history (LOL), WSO's grew in popularity from about 2008-2012 and peaked in 2012. That's where the WarriorPlus story get interesting. While WSO's were on the decline, WarriorPlus continued to improve their platform and expanded to gain market share outside the Warrior Forum.
Similar to JVZoo, they're small and nimble, and able to turn on a dime. They've been able to make some quick adaptations that have probably helped them capture more market share.
I've done some launches on W+, and I can tell you I like it a lot. I don't mean this as an insult to either company, but as a vendor and affiliate I find WarriorPlus and JVZoo to be very similar in functionality. While somewhat complex, they're fairly intuitive and easy for an experienced Internet marketer like me. They both have sales funnel building tools that outclass the ones in ClickBank's vendor portal.
I think WarriorPlus is well poised to be competitive in the industry, especially with their integration of PayPal Plus. I'd also like to point out this article titled The Future of PayPal is Here, written by Mike Lantz last month. I found it after writing most of this article, but it ties in perfectly and also explains the new PayPal Plus.
Meanwhile, ClickBank is clearly winning back some of the IM market share that they lost. It's important to remember that ClickBank doesn't really "need" the IM niche, but it's great to see them welcoming back the high quality vendors. While ClickBank's fees may be slightly higher than the others (another factor that I believe played into JVZoo's explosive growth), I do think that what ClickBank provides is a bargain. Remember, unlike a "middleman" platform, ClickBank actually takes responsibility for the product. They sell it through their own merchant and PayPal accounts. Their fraud prevention team is second to none in the industry. Since they're the legal vendor, THEY collect the sales taxes (for jurisdictions around the world), THEY pay affiliates and handle the 1099's, and they also have a huge support staff that provides support for your product.
If that sounds like a sales pitch, it is. If you're outside the IM niche, ClickBank is a no-brainer to sell your digital product. If you're in the IM niche, the factor that still trumps those benefits is going where the affiliates are. In other words, what really drives product sales is the affiliates more than the platform, so you need to be where you're going to be able to attract and recruit the most and best affiliates. Depending on how things turn out with these recent PayPal changes, that could still be JVZoo, it could become WarriorPlus, or the crowd might go back to ClickBank.
(Side rant: I think all 3 of those companies have unfortunate names. ClickBank is not a bank at all, which is confusing for people. JVZoo has the word zoo in it, which to me does not inspire confidence in security and reliability. And WarriorPlus is a throwback to a forum that now carries mixed connotations in our industry. I guess good branding can overcome a bad name. /end side rant)
Beyond the changes with PayPal and payment processing in general, I think another area where the affiliate platforms will have to adapt in the near future is affiliate tracking. Already it's an area where affiliate platforms have had to adapt over the years, as tracking technology has evolved. Notably, most affiliate platforms have traditionally relied on cookie based tracking. Many platforms have added additional tracking methods to counter the effect of cookies being blocked at the browser level. Now, as the most popular browsers (such as Chrome and Firefox) are continuing to roll out new privacy features, cookie tracking and other tracking methods will become increasingly difficult.
My assumption is that the biggest and most mainstream affiliate networks (aka the "CPA networks") are probably on the leading edge of these technologies. The platforms in the IM niche will need to stay on top of such developments, as a misstep in this area could result in a total loss of trust from affiliates, which would be disastrous.
Another issue related to browsers is the effort of some (particularly Google in my opinion) to control the entire experience, and dictate how the Internet works. For example, they are currently talking about changing the way URL's are viewed and used. This has implications for marketers, and will undoubtedly come with search engine algorithm changes (and thus changes in SEO). I believe good domains will still be important, but they won't be enough on their own. It will become more important than ever to build "authority sites". I am launching something in late May which is specifically designed to help you in this area.
In the survey I asked my JV partners what they think will happen to the IM industry in 2019, and this one surprised me. Remember, the majority of revenue is flat or down YTD. Yet only 17% said they think the industry will get worse. 36% think it will not change much, and and strong 47% majority believe that it will change for the better.
Based on what I'm seeing right now, I think it will change for the better. As painful as it was for many in the industry, ClickBank did a good thing years ago when they drained the swamp of non-compliant products. Now companies like JVZoo and WarriorPlus are at a place in their life cycles in which they too are draining the swamp. New "shady" marketplaces will crop up for the non-compliant who are displaced. JVZoo and WarriorPlus are both great services, and they both seem poised to become stronger companies as they adapt to changes that are happening for many reasons. Which companies will emerge victorious? It's impossible to say. Yet I'm confident that having multiple competing affiliate platforms that are improving and becoming better companies is a good thing for the industry.
I'll leave you with some words of wisdom from my long-time business partner Paul Counts, "A key to long term success in this business is to not put all your eggs in one basket. Build your own email list and audience of customers and subscribers. Ultimately one asset you own outright is your email list and customer list. Treat it like the gold that it is. Platforms and payment processors will come and go. Ways to get traffic will change too. The big companies will change their terms of service. If you have your own email list or audience, the impact of these issues will be minimal. Focus on building your community in order to win long term."
What to take away from this article:
– If you're worried about your PayPal account, implement the new options from JVZoo or WarriorPlus, or use ClickBank.
– Launch where the affiliates are.
– The future of the IM niche looks good, but you need to be able to quickly adapt to changes, just like these companies are adapting.
– It's also a good time to get outside of the narrow segment of the IM niche. Niche marketing is alive and well (just ask ClickBank).
– Continue to build your list and audience to help insulate your business from disrupting changes.
Now it's your turn. In the comments below let us know about your experience with the things mentioned in this article, and tell us about your predictions for Internet marketing in 2019! I approve comments periodically, so your comment won't appear immediately.
Note to any employees of PayPal, CB, JVZ, W+… I am a fan of your company. I would be happy to publish any clarifications, rebuttals, etc. Get in touch with me at my helpdesk.
Thanks for reading, and have a great day!