It's been a long time since I've posted any product reviews, and part of the reason for that is I haven't been inspired by many products lately. I've seen some good ones, but nothing that struck me as being a "game changer".
Today I've got a game changer for you 🙂
It's called DynamicVSL, and was created by an Internet marketer named Rob Jones. In a nutshell, it's a tool designed to create interactive sales videos.
I've literally been waiting many years for a product like this…
You could ask my business partners Paul and Jeff… I've been talking for years about wanting to create an interactive sales video. The way I always described it was like a "choose your own adventure" book.
In the past I've found some solutions that would do part of what I wanted to do, but never all of it. For example, using Camtasia I can create hyperlinked hotspots in videos, and use them to skip to other parts of the video, or to a link. Using that feature, I could create an interactive video, but it wouldn't work for a video sales letter (VSL), because it only works if I export the video with Camtasia's player. If I export a plain MP4, those interactive elements will disappear when I drop the video into a VSL video skin with no controls.
Another option was to use javascript to add interactive features next to or below the video, but it's just not the same as having it right there within the confines of the video player.
Back in the day, I could use shockwave flash (SWF) to create an interactive video (such as what was used for all sorts of SWF-based games), but that format is no longer supported for video.
The last option would be to have a program custom-coded to make the video player do what I wanted to do. I guess the reason I never did it is because I was waiting for someone else to do it, and finally they have.
Why Interactive VSL's?
As you may know, I've been using VSL's for most of my products for the past few years. They typically convert much better than written sales copy, and part of the reason for that is the audio-visual element. It's inherently more engaging than a static sales page. But what if you could take that engagement to the next level and interact with your prospects through the video, similar to how a salesperson would sell to a prospect in real life?
That's the premise of DynamicVSL. It enables you to customize the sales video to tailor the message to certain segments of your audience. I've been waiting to do this, and I plan to implement it immediately.
Here's a flowchart I made as a very basic example of how it works…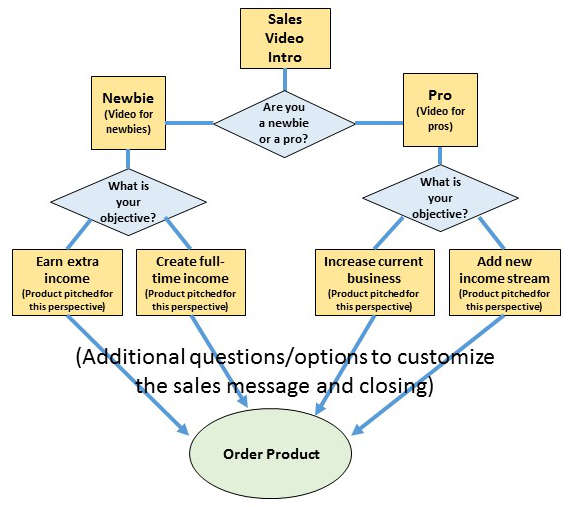 In the example above, the video is able to target four distinct market segments:
1) Newbies wanting to earn some extra income
2) Newbies looking to create a full time income
3) Experts wanting to increase their existing business
4) Experts looking to add a new income stream
In a traditional VSL, the best option is typically to choose the ONE most-important market segment (your archetype customer) and gear the message toward those people. You can attempt to widen the net by appealing to multiple groups, and I've done that to some extent (effectively appealing to two groups), but it's difficult to do that without compromising your primary objective. If you spend much time appealing to various segments, you're wasting the time and losing the attention of the most important segment. And while you may be able to somewhat effectively appeal to a couple of groups within one video, it becomes exponentially more difficult to add more segments, such as the four in the example above. But with DynamicVSL, there's no limit to the number of sub-segments you can drill down into.
I made a video as a demo for you. Before you watch the video, I'll tell you how I made it…
First I created a short PowerPoint presentation with a total of 13 slides. To go along with that, I created a brief outline in Notepad with the questions I wanted to ask, and the possible answers. For this example, I kept it simple with YES/NO answers, but you can have multiple choice and more detailed options.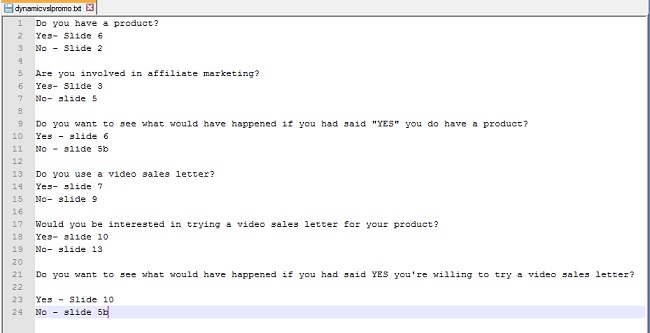 Next I recorded 10 very short screen capture videos using Camtasia. You don't have to use Camtasia, it's just what I like and use. Rob actually prefers Screencast-O-Matic, which is only $15 compared to $299 for Camtasia. You can use DynamicVSL with any MP4 videos, doesn't matter where they come from.
I exported those 10 short clips as MP4s, and uploaded them into a folder on my website. This made it easy for me to copy and paste the URL of each video into the DynamicVSL interface. If I were setting up a VSL for a major product launch, I'd host the videos on Amazon S3 and it works just the same way. All you need is the URL of each video.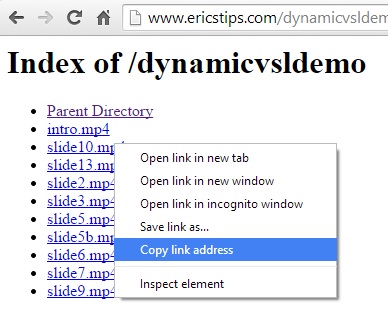 I talked to Rob and he's also setting up the program to allow Youtube URL's as well, which is a great newbie-friendly option. Lastly, I set up the flow within the DynamicVSL program. Here's what that looked like: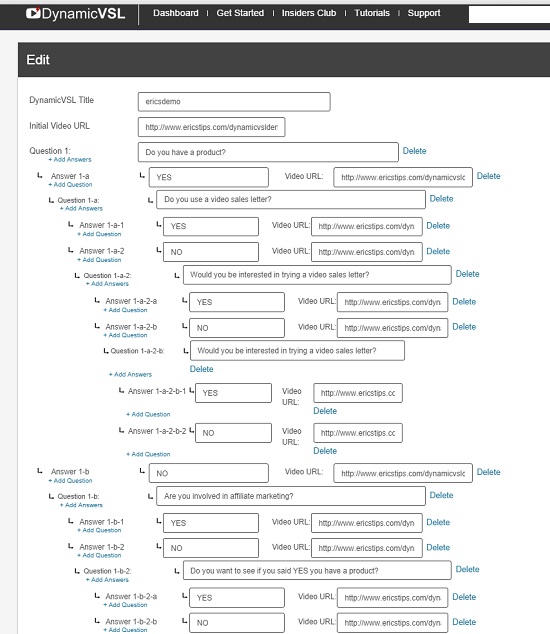 It's definitely more work than setting up just a simple VSL, but the ability to customize the experience makes it well worth it for me. I expect it will increase conversions significantly in most cases. Lastly, I simply grabbed a snippet of code that was generated by the DynamicVSL program, and pasted it into this blog post to embed my dynamic video. If this were an actual VSL, I would have selected the "autoplay" option. But since this is a blog post, I elected for you to press play.
Click the video below for my demo of DynamicVSL:

(Note if you are on a mobile device you might not see the video above. In the program, there is a place to put an alternate mobile video which will be seen by mobile users to ensure that 100% of your visitors see a video. However for this demo I simply did not take the time to do that.)
As you may have noticed from my example above, there are other uses for DynamicVSL beyond creating sales videos! It can also be used for affiliate promotions, squeeze page videos, educational videos, and other "choose your own adventure" experiences. Let's say you're sending traffic to a landing page which promotes a product as an affiliate. Instead of wasting the percentage of traffic that isn't interested in that one particular product, you can use the DynamicVSL method to find out what they are most interested in, and sell it to them!
I recommend checking it out today and joining if you're serious about getting better conversions:
Click Here to Go to the DynamicVSL Website
The program is currently in "Beta" mode (which means you can join at a discounted price), but as you can see from my example it is fully functional. Rob is actively taking feedback every day and has plans to continue to improve the program. I look forward to see what new innovations he will integrate.
You are welcome to leave your questions and comments below 🙂
Have a great day!