There are scammy and spammy products launched into the "make money online" niche all the time. I've given warnings and done various product reviews over the years, but there's so much junk out there that I couldn't cover it all if I wanted to.
I'm also not primarily in the business of being an Internet watchdog. It's not really all that fun. So I tend to ignore most of the scams that land in my inbox, and try to stay focused on delivering value through my own business, and making money in ethical ways online.
Once in awhile something will really catch my attention or make me mad, and that's the situation today.
The Prelaunch Hype
Over the past week or two, I received several "JV invitations" for a product launch called Free Commissions. I get those kind of invitations all the time, and it basically just means that someone wants me to promote their product as an affiliate. Some of those invitations came from Clicksure (the payment processor), from a JV broker, and from a 2nd-tier affiliate.
According to one of the invitations, the launch is being conducted by Tim Atkinson and Zak Meftah. The JV invite page contained a video of Tim Atkinson, and was signed at the bottom by "Tim Alexander".
I'd give you a link to the page, but frankly it's an embarrassment to the Internet marketing community (although it is sadly typical). There is no mention of the product itself or the value that will be provided to customers. It's only about how much money they made on their last launch (over a million), and how they're going to make more this time. There are affiliate prizes including a BMW.
Before I continue, I'll give the first of a few disclaimers that I'll offer throughout this review (to add perspective, and hopefully avoid being called a hypocrite). I'm not against product launches. They are a big part of my own business model, and I also teach how to do them. I'm also a fan of affiliate contests. I've participated in many of them, and held plenty of my own.
What I'm NOT a fan of is when marketers utterly disregard their customers, and that's the feeling I got from this launch before it even started.
The Emails
In spite of the above hype, I really didn't give this launch a second thought. After all, I've seen it all before.
Then the emails started hitting my inbox. Again nothing new, but what caught me by surprise was two things…
– The number of people promoting it, including some that I've associated with in the past.
– The outrageous lies contained in the emails.
OK, time for my next disclaimer. I'm an email marketer too, and I've pushed the envelope with my marketing at times. But I ALWAYS make sure I can substantiate the things that I write.

Unlike many of the emails I saw for Free Commissions…
"I just saw this sick video on YouTube and it's received already 1,539,922 views in the last 5 days."
Really? That's funny since it's not on Youtube, and the sales page just went up today.
"This video was shared 189,294 times on Facebook."
Really… the moment it was launched?
"Good news! Your application has been accepted! Please review the details of the position here:"
What application, and which position was that? LOL
"Your Payment has been approved. Set Up Your Payment Information Here"
Uh huh. I could go an and on with the variations of fake payment notifications, and I'm not even going to bother getting into all the ridiculous income claims.
The Sales Page
After receiving this barrage of emails, of course I clicked one of them to check it out for myself.
www.freecommissions.com (NOT an affiliate link)
Here we have a typical scammy sales video complete with the so-called zillionaire, the cars, the yacht, the girls, the clearly fake testimonial videos, the bank account screen shots.
But here's what really made my blood boil. The guy, Tim Alexander, goes on and on about all the fakes and scammers. He even goes so far as to say that he's NOT an actor!
Of course the fine print at the bottom of the page says "In some cases actors have been used." So I guess that makes it OK for the actor to say he's not an actor!
The worst part was the ridiculous income claims. Folks, I'm not even going to waste my time, or yours, by quoting the outrageous claims made in the sales video. I'd be typing them up for the rest of the day. The gist of it is this…
You will make hundreds of thousands of dollars per month, with ZERO work.
This is the message that is given over and over and over again throughout the video.
Yet another disclaimer. I've got nothing against sales videos. In fact, I've been known to write very persuasive sales copy and create very persuasive sales videos. But there's a huge difference between persuasive copy, and outright lies. These guys didn't even use qualifiers in their script, such as "you could" (make money), or this has the "potential" (to make you rich).

They just flat out said you will make tons of money with zero work.
The price was $49…
But when I clicked to leave the page, I was given an exit splash page with a $20 discount. As I continued to attempt to leave the site, I encountered no less than FIVE exit pages.
The final one took me directly to the shopping cart, with an offer to buy Free Commissions for only $9. At that price, I figured it was worth it just for the entertainment of seeing what was behind the curtain…
The Payment
The payment was processed by ClickSure. From what I understand, their business was birthed as a result of the scammiest of products/vendors that got kicked out of ClickBank, who needed a new way to sell.
According to ClickSure's website, they are based in China and Mauritius. Because of this, it seems to me that they are not afraid of the FTC, or anyone else who might come against them for making false claims.
Last time I purchased something through ClickSure, my credit card company's fraud department called me within minutes to verify the transaction. That didn't happen this time (yet), but I was certainly surprised to see this statement on the thank-you page AFTER I paid:
"ClickSure.com is an International Company and therefore due to fluctuated Currency Exchanged Rate, the actual amount that appears on your credit card statement will be slightly different from your order amount."
Well that's nice to know.
The Upsells
These guys truly redefined "upsell hell".
Here's my final disclaimer. I'm not against upsells. I do them and I teach them. I usually do an upsell and a downsell. On a couple of occasions I've used multiple upsells and downsells in a sales funnel, but I've always treated my customers with respect, and there's always been an easy way out.
After making the initial purchase, I was presented with SEVEN additional offers prior to reaching the members area.
The first One Time Offer, which purported itself to be "streaming live" was $297. There was no way to bypass the video! I had to watch it until the price button appeared until I could decline. Worse than that, it was totally insulting. It included phrases like…
"Hit the "no" link and go back to your pathetic life of struggle"
and
"You'd be a complete moron to not take this offer right now"
Upon declining I was taken to the 2nd offer, which was the same thing for $197 (but called it a 50% discount). More ridiculous claims, such as….
"$110k a month. All you have to do is copy and paste a link. Literally all the work is done for you."
From there I was taken to another $197 offer in which Tim Alexander (along with his very busty model friend) said,
"I want to give you my exact website that makes $238,793.14".
And no, he doesn't say it's a copy or a replica of the site. It's THE site, and he even says he is going to "transfer the site to you." Again I had to watch this video before I could decline the offer.
From there, I was taken to another video, in which the busty model friend offered to give me the same website for only $97!
From there, I was taken to yet another offer which I was forced to endure before I could decline. This one was $175, and offered…
"Free commissions for life, without ever doing any work, without even lifting a finger."
Yes that's a quote, as are these:
"The only thing you have to figure out is how to spend the money. This is no hype, no gimmick."
"All you need to know is that when you wake up in the morning you'll see commissions like this, for life, for free. The money never turns off." (While showing a screenshot of $68k/day commissions)
When I declined that offer, I was offered the same thing for $75. As we were obviously getting toward the end of this funnel, the insults continued to get worse:
"If you're going to say no to this, do us both a favor and just quit. Go back to your pathetic life. You don't have what it takes. Are you the loser that most people think you are?"
Apparently I don't have what it takes, because I said no… and was taken to yet another offer! This one was for a $1 trial. I'm not sure of the total price, as I didn't stick around to watch the full video.
The Product
The membership area is laid out in an organized fashion. Unfortunately, it seems to be organized in such a way that its primary objective is to get more money out of you.
Here's a screen shot: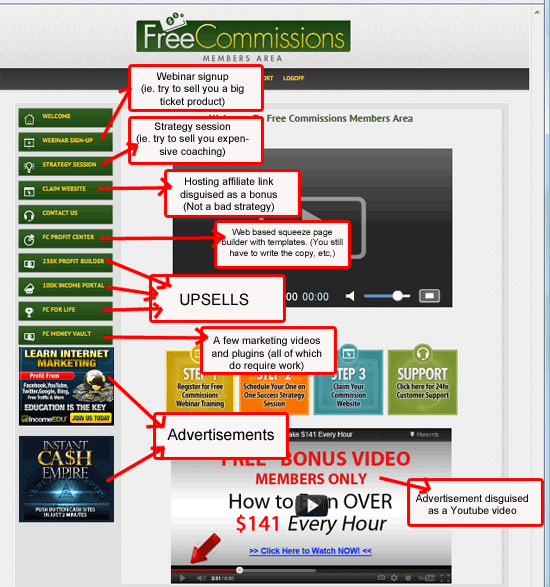 Step #1 is to register for the member's only webinar (Better hurry, there's only 10 seats left). Nothing wrong with webinars, or selling via webinars for that matter, but most likely the objective in this case is to sell you something expensive. I made the mistake once of allowing someone to conduct such a webinar with my customers. I will not make that mistake again.
Step #2 is to schedule your strategy session via telephone. Hmmm, interesting that the signup form asks you how much money you have available to invest in your business training! A classic tactic, and a sure sign that they're going to be selling you some expensive coaching. (The more credit you have available on your card, the more it'll cost).
Step #3 is to claim your "free website", which is actually just a video that leads to a web hosting affiliate link. The strategy itself is not a bad one. I've got no problem with offering incentives for web hosting referrals. But I wouldn't exactly consider this to be something worth paying for. If it were my member's area, I'd call it an "unadvertised bonus", as I often do with such offers.
Beyond those three steps, most of the members area consists of advertisements. So where's the product?
There is a web-based squeeze page builder, and a couple of plugins and videos. Those tools and information are OK, but certainly do not even begin to fulfill the claims made in the sales video.
I didn't find ANYTHING that required zero work. For example, the squeeze page builder has templates, but you still have to write your own copy. Even if it DID do all the work for you, I don't see any possibility of making the volume of "hands free" income that the sales video promises.
They do deliver something. I would even go so far as to say it's "possible" to make money with these tools. Squeeze pages are a great component of a permission-based marketing model. I use them all the time, and I make money with them. But that doesn't even BEGIN to justify the marketing.
I call this a scam. I'm very sensitive about using that word, because it is often not justified by those who use it. I've been called a scammer simply for being in the business of teaching others how to make money, and it never feels good.
Often what we'll see in this industry are hyped up sales pages and products that do not meet all the expectations of those who buy them. That does not necessarily make something a scam.
In this case, the blatant lies, combined with utter disregard for the customer's experience leads me to label it as an actual scam.
The Bottom Line
Watch out for this one, and others like it. I've been warning about these kind of scammy products for years, and we'll be seeing them for years to come. They will always find another payment processor, etc.
I was really disappointed to see so many well-known marketers promoting this scam. Most of them are not scammers themselves, but in this case are guilty of blindly promoting something without checking it out first.
I thought about publishing their names here (there's over 30 of them listed on the JV page alone), but I don't want to muddy the waters and turn this into a hate-fest. Some of them have promoted my products in the past, and/or I've promoted theirs. These are guys with huge influence… the combined power to contact millions of people almost instantly. That's partly why I felt it was important to call out this scam; since I know many of my readers are on those lists.
I do expect some flak from this review, and there will obviously be some fallout from former JV partners when it comes time for me to launch my next product (which is soon).
If you were someone who promoted Free Commissions, I'm asking you to do something brave. Send an email out to your list and retract your endorsement. I've avoided naming names (you know who you are), so just do the honorable thing and renounce this scam.
Like I said at the beginning of this review, these kind of things are not fun to write. I do not intend to make a habit of it. But I just couldn't stay silent on this one today.
As always, you are welcome to post your questions and comments below 🙂
Have a great day!