Over the past several lessons we've talked about how to create a website. But what if you don't want to build your own website? Maybe it's not fun for you, or maybe it's just not worth the investment of your time.
In that case, you should outsource it. Since this is the first time in this lesson series that we've talked about outsourcing, we'll also be covering some of the basics of outsourcing…
(Watch this video…

Main points:
Outsourcing is subcontracting a job or a task… or a collection of jobs or tasks… to a third party.

For example a company might outsource their manufacturing process, or their entire customer service department. I recently outsourced much of my web traffic generation tasks. Learn how to outsource everything

Outsourcing vs. Out-tasking: "Out-tasking" is when you hire someone for a particular task or one time project, versus outsourcing on an ongoing basis. However, I use the term outsourcing as a catch-all.

Outsourcing vs. Doing everything yourself: If your goal is to build a long-term sustainable business that runs without you, then you'll need to hire some employees and/or outsource.

Recommended reading:
E-myth Revisited, by Michael Gerber
Top Grading, by Bradford Smart (If you plan on HIRING)
Cashflow Quadrant, Robert Kiyosaki (see also lesson #6)
Outsourcing vs. Hiring Employees: Many online business owners may find outsourcing to be a more economical choice to achieve many of the tasks and processes that I'm teaching.

Benefits:
1) Cost savings vs. hiring employees
2) Simplification vs. hiring employees
You can outsource almost EVERYTHING.

Places to outsource your website:

1) Use someone locally.

-Phonebook
-Classified ads
-Craigslist (beware of scammers)
-son/daughter/relative… local college kid, etc.

2) Use an outsourced specialty service (ie. Web Design company)

-have a budget.
-know exactly what you want.
-decide if you want to work with someone overseas, or in certain countries.
-look at their portfolio.
-look at reviews and get a referral.
– http://www.outsourcing.org

3) Use an outsource/freelancer website

Rent-a-coder
Odesk
Elance.com
Guru.com
Scriptlance.com

(See video for walk-through of posting a project)

-Idea: make a screen capture video!

Action steps:

1) Decide if you want to outsource your website

2) If yes, choose a provider and make it happen!

3) Start thinking about what you can outsource, and develop an outsourcing mindset.

Special Offer:

Today I'm offering an ebook which explains how to outsource for your Internet-based business. It is a brand new exclusive ebook created for Eric's Tips.

"Outsourcing for Internet Marketers".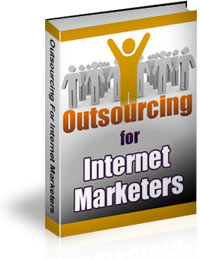 Click here to get more details and download this ebook
(Resale Rights also available)
As always, you are welcome to post your questions and comments below. Feel free to let us know your outsourcing successes, or recommended freelancer sites.
Have a great day!