On April 24th, Google rolled out their "Penguin" update. Mass chaos has ensued in the SEO world, with much debate among the Internet marketing community.
Out of all the Google updates I've seen over the years, this one seems to have caused more anger and frustration than the others. So I figured I'd weigh in on the issue.
What is the Penguin Update?
This post by Matt Cutts on the official Google Webmaster Central Blog explains it pretty well:
Another step to reward high-quality sites
I've read numerous complaints around the web regarding the vagueness of Google's explanation. Those seem to mostly be from SEO marketers who are making excuses for why their (and their clients) sites have fallen in the rankings. They say Google isn't being clear enough, and isn't revealing the details of the algorithm… which "isn't fair".
However, I think Google has given us plenty of information over the years about what they like and don't like.
They don't like efforts to manipulate search results. They don't like spam. They don't like low quality content. Pretty basic stuff, right?
Therefore the Penguin update shouldn't come as a shock to anyone. It's basically an enforcement of what Google has been preaching over the past several years.
Now, before anyone labels me as a Google-hugger, or a pious white-hat puritan, let me explain where I'm coming from.
The majority of my traffic for most of my websites does not come from SEO. I decided a long time ago that SEO was not going to be my primary traffic strategy. I didn't want to be dependent on Google, and I didn't want to invest my time in the ever-changing SEO game.
In my Internet marketing lessons, I teach five main categories of web traffic generation. SEO is just one of those categories. I don't have any SEO clients, and I've never sold any SEO products (although I have promoted several as an affiliate).
I've always held the viewpoint that Google does not own the Internet, nor do they have the right to exclusively define morality. Google is not God. Therefore I'm not inherently anti-blackhat. If what you're doing is LEGAL, and doesn't hurt anyone, that's your prerogative.
Google built their business in part by "scraping" the web. An argument can be made that they took everyone's content (without permission) and used it to build a search engine. When you do a search on Google, you're not actually searching the web. You're searching stuff that has been stored on Google's computers.
Business is a war of sorts, and if your opinion is that gaming Google constitutes fair competition, so be it.
At the same time, I've held the viewpoint that Google does own Google, and they DO have the right to define their own ethics and to dictate how their search engine is used.
For that reason alone, I'm not a proponent of blackhat. I figure if you want to get web traffic from Google, why not work with them instead of against them?
Perhaps equally important, I believe that Google is smarter than me. Not better. Not wiser. But smarter.
I've never written a single line of code for a search engine algorithm, let alone create the most sophisticated one on the planet. I've never built a car that can drive itself (as Google has done), or built a multi-billion dollar company.
So I've always had a feeling that Google would eventually outsmart the blackhatters. Perhaps the Penguin is a partial manifestation of that eventuality.
I say "partial" because clearly there's still a lot of spam at the top of the rankings.
For example, my previous blog post was a product review of a product called "One Minute Commissions". Since my review is one of only a handful of unbiased reviews that I've seen, I would have hoped to see it near the top of the results for the search term one minute commissions review.
However, the ENTIRE first page and most of the second page of results are populated by bogus reviews (ie. reviews intended only to promote the product).
On the other hand, I've seen mostly positive changes in my own results since the Penguin update.
For example, this Eric's Tips website is currently ranking better for some of my keywords than it was before Penguin.
For example, I'm now ranking #2 for internet marketing lessons.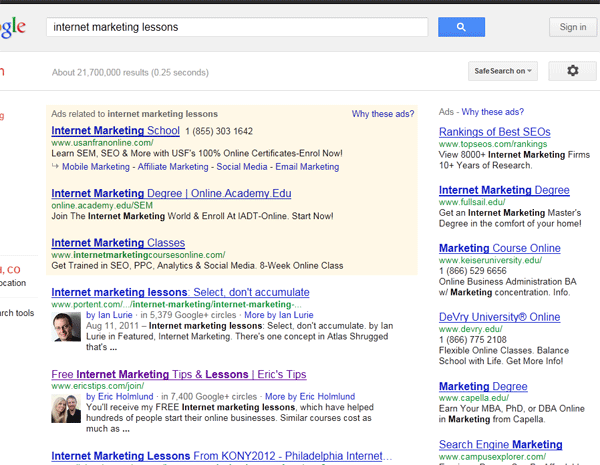 I'm also #5 for internet marketing tips, and #6 for free internet marketing tips. Certainly nothing to brag about, but those are all improvements by about 5-10 ranking positions. I see this as a successful implementation of Google's attempt to "reward high quality sites".
I've never done any spammy link building with this site, and have done a minimal amount of SEO. I believe the sites that were previously above mine have been penalized for spammy practices.
I've also seen some comments regarding Penguin penalizing sites for over-optimization. Some are saying that it's now better to be a little more vague in your on-page optimization. Here's a post-Penguin example from my site that would seem to support such a theory: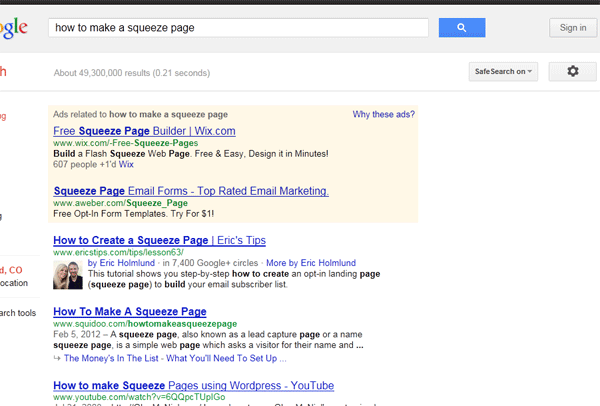 I'm ranked #1 for how to make a squeeze page, even though that particular phrase is NOT found anywhere on the page (the page is also ranked #1 for how to create a squeeze page, and #8 for squeeze page).
In the aforementioned blog post by Matt Cutts, he says, "We want people doing white hat search engine optimization (or even no search engine optimization at all) to be free to focus on creating amazing, compelling web sites."
That's right, Google is implying that it's OK if you don't do any SEO. Here is a post-Penguin example from one of my sites that would seem to support this claim: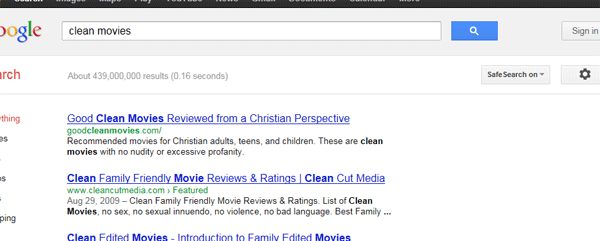 It's a relatively new site, on which I've done no SEO, and I'm ranked #1 out of 439,000,000 results for clean movies.
Link Building…
For a long time, those who teach SEO (including myself) and those who practice it have said that off-page SEO is synonymous with link building.
Indeed, links are the measure of authority. However, Google never said to go out and GET a bunch of links, or to MAKE a bunch of links.
I don't mean for this to sound like "I told you so", but even while I was teaching about link building I was warning that Google COULD at any time negate the value of entire genres of back links.
Remember, Google is smart. And really it doesn't take much intelligence to see what Internet marketers have done with article marketing, social bookmarking, blog networks, directories, etc.
If your back links look "unnatural" or if they look like they were built by YOU, then it's likely that the Penguin is penalizing you. Which brings us to the most controversial point of all…
Negative SEO.
There has been much speculation that Google is now penalizing links that they deem to be spammy. Not just discounting those links, but actually penalizing them.
Whether it's true, I don't know, but the potential ramifications are huge. If it's true, you could literally take out your competitors by spamming on their behalf. Those spammy links are so easy to acquire that this would absolutely become a reality.
IF it's true, I'd also be willing to bet that there will be more big changes in the future for Google's algorithm. Remember, Google is smart. If backhatters start sniping their competitors websites by spamming, Google will figure out a way to combat it.
Many prolific SEO experts are actually recommending that you seek to remove all questionable back links. An un-back-linking campaign if you will. In my opinion, that may be a waste of time. I really hope Google will give us a confirmation of whether "bad" links are merely being discounted (in which case you can ignore them), or if they're truly being penalized (in which case you would need to get them removed).
Going forward, I would recommend the following if you care about SEO:
– Avoid spammy back links.
– Avoid link farms.
– Avoid keyword stuffing.
– Avoid over-optimization.
– Avoid spun content & other low quality content.
– Do get legitimate back links from methods like guest blogging.
– Do make sure back links seem natural. (Realistic anchor text, not overly optimized, etc)
– Do use Google+
– Do use author tags and claim your sites in Google+
– Do create great content.
If you would like some additional opinions about the Google Penguin update, I found a very good blog post from two days ago in which Razvan Gavrilas interviewed 13 SEO experts:
Link Building Experts talk about Google Penguin
He asked some very pertinent questions about link building, and the variety of answers gives a nice balance of viewpoints.
As always, you are welcome to leave your comments below. Be sure to let us know how the Penguin is treating YOU 🙂
Have a great day!