Happy Thanksgiving! About half of Eric's Tips readers are in the USA, where Thanksgiving is a national holiday today, but like I say each year… gratitude transcends all borders ?
This is the 12th consecutive year that we've done this. I rarely post on this blog these days, but I still think it's a good place to have this annual Thanksgiving tradition!
For me personally, it's a great opportunity to be reminded of how thankful I am for all of the subscribers and customers that have allowed me to have this business for so many years.
So I want everyone reading this to know that I'm thankful for YOU. Without you, Eric's Tips would not exist. Whether this is your first time participating in our annual Thanksgiving contest, or your 12th, thank you for being a part of it.
Here are a couple of freebies as a token of my appreciation. This year I've got a couple of ebooks with rights for you…
(Do a right-click "Save link as" to save it to your computer)
1) 10 Day Detoxification (I'm including private label rights with this one, so you can rename it and sell it as your own product. I'm thinking detox is a good niche for the time after Thanksgiving and Christmas feasting, and for the New Year. I haven't done this detox, I just think it's a good niche.)
2) How to Make Money with Twitch.TV (This is a new ebook that I had ghostwritten, and is totally unreleased until today. I'm including Master Resale Rights for this one. Twitch is a really hot site, and I haven't seen many others teaching how to make money from it.)
Now, here is the 12th annual Eric's Tips Thanksgiving contest!
It's a good thing to express your gratitude for what you're thankful for. In fact, it's been shown to have health benefits.
So once again, we are going to do a group exercise to demonstrate our thankfulness.
All you have to do is post a comment below saying something you're thankful for… and I want to do it differently this year by limiting your response to no more than THREE WORDS.
(It's not that I don't want to read longer comments. I like comments, in fact I just noticed that I have manually approved over 38,000 comments on this site.)
We've just been doing this so long, I figure it would be fun to change it up a little. Sometimes it's difficult to boil your thankfulness down to just a few words. It could be three different things like: Faith, food, family. Or it could be a three word phrase like: Thankful for family.
I'm NOT going to disqualify entries that are more or less than three words, but let's try to keep it to three because I think it will be fun for all of you to be able to skim through all the responses quickly.
In a few days, I will choose 10 comments at RANDOM, and will send $20 via Paypal to each to those 10 people! It's a small way for me to share a bit of the harvest. I will also announce the winners here on this post, as usual.
If you need examples or inspiration feel free to check out any of the previous years.
Here's a picture of my family taken this past month on our property here in Colorado: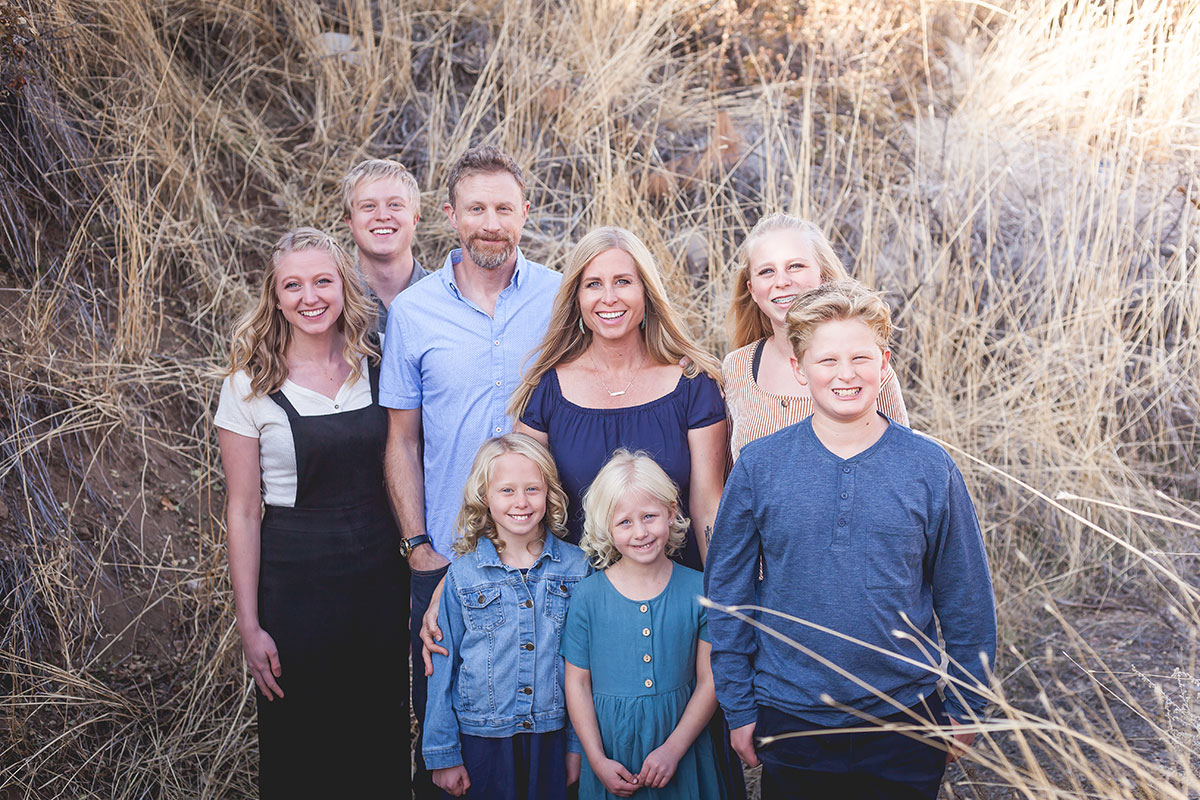 We normally would have taken the photo with hills or mountains in the background, but it was VERY windy the day of the photo shoot, so we ducked into a small ravine that runs through our property!
I'm thankful for: God and family
Please post a comment below and let us know in 3 words what you're thankful for 🙂
Have a great day and a happy Thanksgiving!
WINNERS:
Congrats to the following winners who were chosen at random! I have already sent the Paypal to the email address you used with your comment (obscured below for privacy):
paul.williams@________anything.com
Richard_Ro___@big____.com
ochukoabay____@gmail.com
zbwilliams7@_____.com
victor@___sat.com
shirley____h@yahoo.com
soram@___ls.com
Tinahaan____@gmail.com
james_____thompson@gmail.com
cla__79@hotmail.co.uk