You know those emails that get forwarded to you?
Cute pictures. Funny YouTube videos. Political tirades. Stuff that was disproven by Snopes years ago, but still gets passed around.
Most of those emails are non-commercial, and don't lead to any sort of monetization. But what if you could harness the power of viral email for your own benefit?
It's not as far-fetched as you might think, and I've seen it done many times.
A few days ago, I received an email forwarded from my wife's grandmother, who typically forwards a few emails every week.
What was unique about this particular email is that it was actually an advertisement, yet she was compelled to forward it to her friends and family. Here's a copy of it…
I'd like to break down some of the key ingredients that caused this email advertisement to go viral.
First, you'll notice that the subject line is somewhat provocative. This is a critical component of a viral email. In this case, the subject line was…
Bet you don't know this about Obama
To make this a somewhat unusual example, this one was actually a paid advertisement, with a large disclaimer at the top of the email. However, I think the disclaimer was offset by the fact that the email was sent by a trusted source; in this case the Washington Guardian, which is owned by the Washington Times.
The email followed the classic AIDA copywriting formula…
Attention
Interest
Desire
Action
At the end of the message was one small link, which made it seem very non-spammy.
Now here's the part that may surprise you…
The link goes to a SALES VIDEO!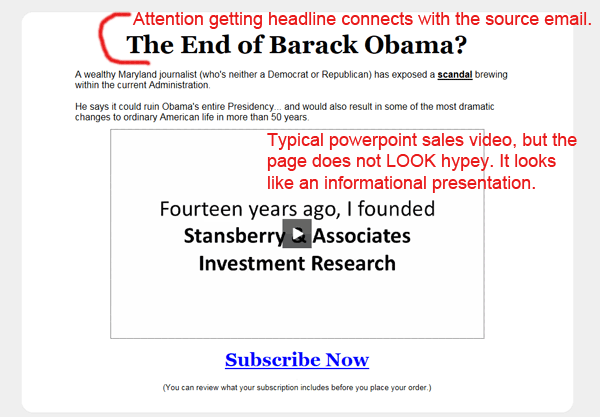 If you've been around the Internet marketing world, you'll recognize this as a very typical "PowerPoint style" sales video, with words on plain white slides, and a voiceover. However, there are some things about the sales page that I think helped allow the initial email to go viral.
The attention getting headline connects perfectly with the source email, so it does not feel like a bait and switch.
The page is very plain, and does not LOOK hypey. I think that's a big key, because again it doesn't look like a typical mainstream marketing piece. It looks more like an informational presentation.
If you click to leave the sales video, you're taken to an "Exit splash" page, in typical Internet marketing fashion…
Lo and behold, the exit page is a written sales letter, with the same content as the sales video. Again, the page is very plain, and does not look hypey. There is one simple subscribe button at the bottom. Had there been a bunch of "buy" links on the sales video or the exit page, I think it would have raised red flags for most viewers and prevented it from going viral.
Lastly, I noticed that the advertiser is also implementing a remarketing campaign through banner ads. Since I had visited the sales page, but didn't buy, banner ads for the very same offer and similar offers from the same advertiser began to follow me around the web…
I don't know what the conversion rate and results are for this advertising campaign, but I'd rate it an excellent case study, and a marketing style worth emulating in a variety of different niches.
(Note: I also make no claims regarding the advertiser or the product from the case study. I did a little research and saw that they've been involved in plenty of controversy… legal and otherwise. I certainly don't recommend doing anything illegal or unethical. But the principle stands… this is how to get people's attention. In this advertiser's case, they've even had "news" articles published by respected media outlets about their video.)
As always, you are welcome to post your questions and comments below 🙂
Have a great day!
Tweet