Special Edition
I'm back from my mission trip to Belize, and I'm happy to report that it was a phenomenal trip.
It was a great experience for myself, my wife and our three kids. We experienced many new things, and learned a lot about the local culture.
Thanks in part to many of you who contributed to our online fundraiser, we were able to donate over $10,000 to the ministry, and I will tell you that it was a huge blessing to them. So thank you for your help.
We were working with Laugh Out Loud Ministries, and it was awesome to see what they are doing in southern Belize.
While there, I helped with the construction of the first building on their property. The jungle is amazing, and it's a very challenging place to build something.
We experienced some flooding from the massive rains that occurred nightly (it's rainy season), and learned to sleep through loud thunderstorms while nestled under mosquito nets.
We saw tarantulas, scorpions, and snakes. Our son went down there with a cast on his broken arm, but we had to cut if off early after he swam through some jungle streams and it became rotten 🙂
On our final day, we were privileged to eat dinner in the one room home of a native Mayan family, in which the father of nine children was celebrating his 39th birthday. The meal was simple, but you've never had corn tortillas like the ones they made.
Here's a few snapshots from the trip: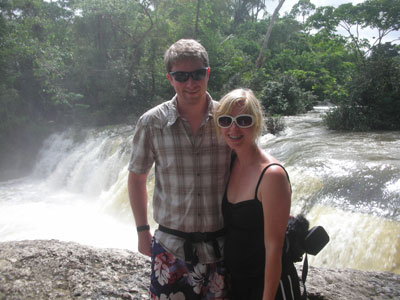 My wife and I in front of a waterfall.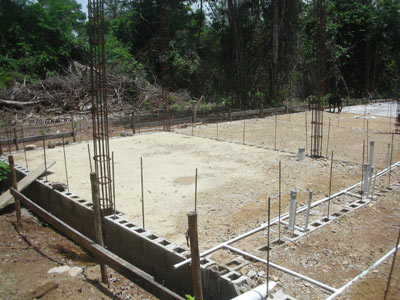 The building foundation I was working on.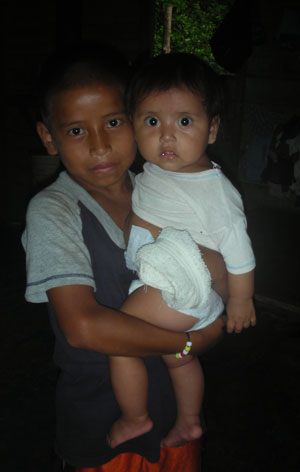 Some Mayan children we became friends with.
I also shot some video and made a promotional video for their ministry:
A special thanks goes out to the following sponsors who donated extra during the fundraiser:
Mission Champions:
Rev. Alan A. Rowbotham, Spiritual Solutions for You
Organics by Design, Organics by Design
Gabriel, beach, air, fishing, sun
Impact Partners:
Carl A. Goodnight, Build web based business
Sherif Elsisi, Affordable webhosting and WordPress Support
Kevin Koop, Article Marketing Strategies
Paul Counts, Make Money Online
Thanks again for your support and prayers!
I'll be back to posting more lessons starting tomorrow.
Have a great day!