(Product Launch Series Part 2 of 4)
In the previous lesson we started talking about product launches. Today we're going to look at how to take the first steps in the product launch process…
(Watch this video – it may take a couple minutes to load after clicking it…)

Abbreviated Outline:

Is it necessary to do a prelaunch?
No it isn't, but I wouldn't recommend skipping it unless you're established in the market and have a good reason.

How long should your prelaunch be?
For most web-based products, I would recommend that your prelaunch be somewhere in the range of a few days to a few weeks.

Scheduling your launch:
Launch your product at the time of year that makes the most sense for your market. Launch on a day and time that is ideal for your market to buy. (See video for details)
1) Avoid launching at the same time as any major player in your industry.*
2) Try to launch before your competitor if possible.
* The exception is if you're strategically launching at the same time as a major launch in your industry. (See video for this cut-throat tactic)

Remember the product launch prerequisites from the previous lesson. These are NOT things that you want to be doing during your prelaunch.

Recruiting JV/Affiliate Partners
– See lesson #86
– Offer to reciprocate (see details)
– Offer piggyback opportunity on your download page.
– Use ethical bribes
– Use snail mail
– Use caution regarding recruiting prospects during prelaunch. (I do not recommend it)
– Recruiting customers
– Create a JV blog (I recommend WordPress)
– Get affiliates/partners on an exclusive email list. (DON'T send them promos)
– Get listed on launch boards.
– Consider using a JV broker. (Especially on a pay for performance basis)
– Post prelaunch and launch day swipe emails.

Affiliate Contests
– Sales contests
– Prelaunch leads contests
– Explain the rules and deadlines clearly
– (See video for explanation and philosophy on prizes.)
– Helpful tool for finding cool prizes in any niche: Amazon most-wished for list
– Some contest is better than no contest.

Buzz Building:
– Creating awareness, anticipation, and excitement about your launch.
– Movie trailers example
– See lesson #84
– Give away free content (and generate reciprocity)

Giving Away Content:
Give away as much as you can while only increasing demand for your product, and not diminishing the desire for it in any way.
– Create a launch blog
– Tie in to your marketing narrative.
Possible formats:
Videos
Webinars
Google+ Hangouts
PDF reports
Public Launch Blog
Case studies (and testimonials from beta users)
Press releases
News articles
I suggest integrating multiple formats of content into your prelaunch campaign. The more you incorporate, and the more of the human senses you engage, the better chance that you're going to connect with a wider segment of your audience.

Key Ingredients of a Successful Prelaunch Campaign:
1) Provide real value
2) Build a list
– See video for flowcharts, squeeze page examples, etc.
– Early Bird List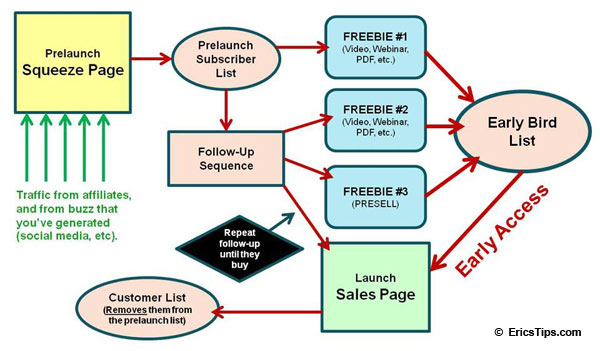 3) Tell a story (marketing narrative)
– The story is key
– The entire prelaunch and launch should carry a consistent narrative.
– The objective of your story is to create a connection between the product and the prospect.
– We will cover this in depth in lesson #91
4) Generate social proof
– This is huge. Always has been, and not going away.
– Use a launch blog with social media commenting enabled.
– Release case studies and/or testimonials from beta users.
– Get Endorsements from Experts and Celebrities
– Use Press Releases and Articles
– Draw a crowd (Webinars, Google+ Hangouts, Offline Events, etc)
*Sometimes it's better to have NO social proof than to have just a little.
5) Convey urgency and scarcity
– Only use limits that you can justify.
Urgency = set a deadline. The more meaningful the deadline, the more effective it will be.
Examples:
– Product not available after deadline.
– Price goes up big time after deadline.
– Valuable bonuses removed after deadline.
Scarcity = set a limit.
Examples:
– We only printed 100 copies.
– If you're not in the first 100 orders, you'll have to wait an extra month.
– We don't want too many people using this secret method.
– Physical constraints upon your time, or ability to support the product.
FOMO = Fear of Missing Out!

"Salting" the market:
If you've done your prelaunch effectively, then your launch day will be like selling a cup of cold water to a thirsty man in the desert.

Action steps:
1) Schedule your launch, and then work backwards to plan your prelaunch.
2) Implement strategies to recruit launch partners (affiliates).
3) Design a prelaunch campaign that incorporates these key ingredients:
– Provide real value
– Build a list
– Tell a story (marketing narrative)
– Generate social proof
– Convey urgency and scarcity
In the next lesson we'll take a closer look at how to create your marketing narrative.
As always, you are welcome to post your questions and comments below 🙂
Have a great day!