In the previous lesson, we talked about your marketing funnel. But even after you've figured out how your products or services fit strategically into your funnel, it can be difficult to figure out the best prices for them.
Small price differences can mean big differences in your results, so it's something worth spending time on…
(Watch this video…)

Main points:
Start high and drop down.

– Look at your competition to determine an initial range.
– Drop down in small increments.

Consider what is your most important priority:

– Highest profit margins?
– Maximum total profit?
– Maximum number of customers?

Priority: High profit margins.

– You can stop dropping down as soon as you're making a satisfactory number of sales.
– Avoid devaluaing your product.
– Fewer customers can be better.
– Less customer support.

Priority: Maximizing your profits.

– Need to keep dropping down to test the downside and determine the sweet spot.
– (See video for example)

Priority: Maximum number of customers.

– Good for breaking into competitive market.
– Good for high lifetime value customers.
– Consider a Loss Leader.
– Consider the differences of Free vs. Low Price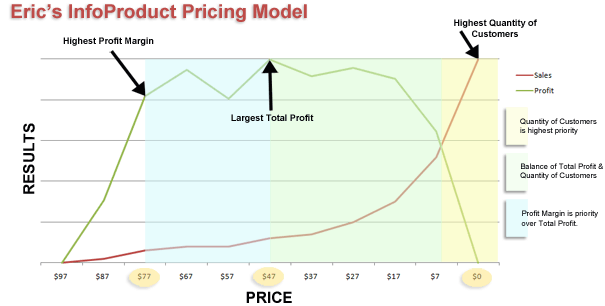 (See video for explanation of how the chart works, color codes, etc.)
– Your optimal price depends on the objectives of your business!
– You need to consider your back-end when determining your pricing strategy.

Other factors that may affect your strategy…

1) Competition

– Price below competition, but be prepared for a battle.
– Penetration pricing
– Price above competition IF there are factors MORE important to the prospect than price, such as quality, customer service, or convenience.

"If you want to destroy your competition, figure out their USP and give it away for free."

2) Fair Market Value

– Don't base the price on what YOU think your product is worth. Instead, base it on the demand.

3) Dynamic Pricing

– ex. Airlines, Amazon.

4) Ongoing Drop-down Pricing

– Exit pops, 2nd OTO's, etc.

5) Firesale/Limited Time Pricing

– Instead of dropping down in price, you drop up.
– Must have a compelling "reason why".

6) Psychological Price Points

– You just need to test it. $50, $49.95, $49, $47, etc.

7) Continuity

– If you can include continuity, you probably should.
– Adds another dimension to your testing: average length of subscription at each price point.
– Look at lifetime value of customer at each price point.
– Not always more profitable than one-time payment (see video).

8] Special Considerations for Product Launches

– If you're doing a BIG product launch, the drop down method is not ideal.
– You need to launch at a price that converts.
– Use test lists, PPC, surveys
– Price it aggressively
– Only one shot with prospects and affiliates
– Split test psychological price points
– Make ONE quick price adjustment ASAP if necessary.

Action steps:

1) Determine your pricing strategy.

2) Determine your starting price.

The only way you're going to sell anything is if your prospect perceives the value to be equal to or greater than the price, so in the next lesson we're going to look at building value through copywriting!

As always, you are welcome to post your questions and comments below.

Have a great day!