In the past several lessons we've been talking about creating your product. It might be your first product, or it might be one of many products in your arsenal… either way, it's important to look at how each product fits into your overall business strategy.
Today we'll be looking at your marketing funnel, and an alternative viewpoint…
(Watch this video…)

Main points:
Most newbies can't see past their first product, and don't have a grasp of how their product fits into their overall marketing strategy, let alone a well-defined marketing funnel… big mistake.

Types of Marketing Funnels…

1) Evolution of a prospect to a customer. (awareness, consideration, preference, action… etc)
Here is a diagram of this type of funnel:


(Source: ResponseTap)
2) Price-based funnel, with levels for each price range. (This is the kind we're talking about)

It starts with your target market. You want to get prospects into your funnel.

The price ranges are totally relative to your business and what you're selling.

In the online world, particularly for info-marketing, the top of the funnel usually starts with FREE.

"Moving the free line" is essentially taking products from a deeper level of your funnel, and giving them away for free in order to get more prospects into your funnel.

– Freebies and loss-leaders should pay off in the long run.
– The hard cost of giving away information is virtually zero.

There is no requirement for the number of levels contained within your funnel, but the mistake many marketers make is having too few levels.

Some ideas for each level…

FREE Level:
Newsletters
Articles
Reports
Ebooks
Interviews
Teleseminars
Free Membership sites
Free Trial Memberships
Free plus shipping*

Low Price Level: ($1 – $100)
Special Reports
Audio Interviews
Videos
Ebooks
Trial Membership Offers
Trial Software
Paid Membership Sites
Mini-courses
Teleseminars

Medium Price Level: ($50 – $1,000)
Software
Video Collection
Webinars
Exclusive Membership sites
Home Study Course
Bundles/Packages

Big Ticket Level: ($500 – $100,000)
Coaching/Consulting
High-end services: copywriting, websites, etc.
Home Study Course
Live Seminar
Bootcamp/Conference
Anything requiring your personal time

The traditional view of the funnel would indicate that your first product should be at the top of the funnel, however that's not always necessary, because…

Alternative viewpoint: "Outer Circle Marketing" (from Alex Mandossian's Blog)

– It's basically a non-linear approach to the strategy. Instead of a funnel, we can picture it as an archery target. (See video for details)

– It is prospect-focused rather than product-focused.

– This methodology dictates that it is often best to start with a mid-range product. This way you can make more profit up front, and move from there to both higher and lower price points.

The "Bird's Eye" funnel (see video for details)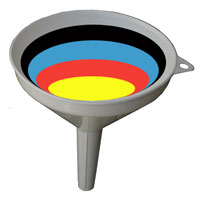 -Prospects can enter at any level.
-The natural direction of movement is down through the channel (like the Funnel theory), but they can also move up or jump around (like the OCM theory).
Action steps:
1) Draw an outline of your marketing funnel or target, and create some levels for it.
2) Determine where your product fits into this structure.
In the next lesson we're going to look at how to find the best price for your product!
As always, you are welcome to post your questions and comments below.
Have a great day!
Tweet