Back in lesson 7, we established that the type of online business model I'm going to be teaching is primarily an information publishing business.
In other words, you're going to sell your own information product (also known as an infoproduct). But before we can create an infoproduct, we need to choose a topic for it.
(Watch this video…
NOTE: This niche selection process applies to virtually ANY type of online business– not just infoproducts!)

Main points:
A niche is essentially a specialized market containing a group of people who share a common interest or quality.

Reasons newbies get stuck at this point:

1) They think they're going to be married to it (so they stress out and procrastinate making the choice)
2) They're afraid it's going to fail and not be profitable.

(both reasons are basically that they are afraid of choosing the wrong niche)

We can start with one of two possible branches:

1) Something you know
2) Something you don't know

There are pros and cons to both of those sides, but I prefer starting with something you know and are passionate about because:

1) Your enthusiasm will help sell it
2) It will be a better product
3) You can relate to your market

Try not to fall in love with your product idea, as it could become a stumbling block if you're attached to it.

Consider the possibility of developing several products in several niches over the long term (multiple streams of income add stability to your business), but start with ONE.

The key is research. (make sure it's a good niche BEFORE you invest additional time and money into the business)

Some questions I answer through research:

– How big is the niche?
– How competitive is the niche?
– How profitable is the niche?

Is there potential for back end products? (If not, you may want to reconsider)

Trends and fads can be VERY profitable, but you should consider an evergreen topic if you want to build this particular business for the long term.

People are looking for information to ease their pain or fuel their pleasure. That's the kind of information they're willing to pay for.

Action step:

1) Brainstorm some topics that you would be interested in turning into a product. Write them down.

Don't worry about details of the niche market for it yet…we'll be doing the research in the next lesson.

If you don't already have some ideas in mind, and don't know how to start brainstorming, here are some places to look for ideas (starting points)…

1) What's hot on Ebay (updated each season)

2) Ebay Popular (dynamic popularity rankings)

3) Best sellers on Amazon (updated hourly)

4) Shopping.com Consumer Demand Index (updated every 2 weeks)

5) Most popular goals on 43things (updated daily)

6) Google hot trends (updated throughout the day)

Special Offer:

Today I'm offering an ebook which explains how to have your own product online and making sales within 30 days.

If you're interested in discovering all the details about the niche selection process, or in getting a jump start on the rest of the product creation process, this ebook is for you.

It is a brand new exclusive ebook created for Eric's Tips.

"How to Have Your Own Information Product in 30 Days".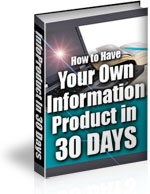 Click here to get more details and download this ebook
(Resale Rights also available)
As always, you are welcome to post your questions and comments below. Feel free to let me know if you've got some topics in mind, or if you've already chosen a niche.
Have a great day!