(Part 1 in a series of 2)
Throughout the previous four lessons, we went through the process of installing, configuring, and customizing a WordPress blog.
Today I want to give you some perspective in regard to making money with blogs (you don't have to be using WordPress)…
(Watch this video…)

Main points:
Blog: a website containing an online journal, or series of entries of some sort. It could contain text, photos, videos, or other types of content.

Blogging was popularized by free platforms like Blogger, Livejournal, and more recently WordPress.com. However…

I recommend blogging on your own domain. Free blogs can be profitable, and could be a part of your business, but your main blog should be on YOUR domain.

Your blog could play a major or a minor role in your overall business plan. (See examples on video)

Why would you want to incorporate a blog into your business?

-Web traffic (from SEO, links from other blogs, etc)
-Additional income stream (via direct monetization with AdSense, paid ads, affiliate links, etc)
-Authority/Influence/Positioning (see lesson #38)
Ways to make money with blogs…

1) Splogging

-provides little or no value to the visitor
-games the search engines
-often automated, mass produced
-NOT recommended

2) Be a paid blogger

-Freelancer route
-Pay per post route
-OK, but would be better to focus on building a business

3) Direct monetization

– contextual ads (ie. AdSense)
– Affiliate links (ie. product reviews)
– tip jar/donation link
– paid placement ads/sponsors (ie. display ads and text links*)

(see video for examples of each… pros, cons, etc.)

*Be careful about selling text links, as Google may penalize sites that buy or sell them.

-Comparison of John Chow, Shoemoney, and Problogger

-What is Gary Vaynerchuk doing differently?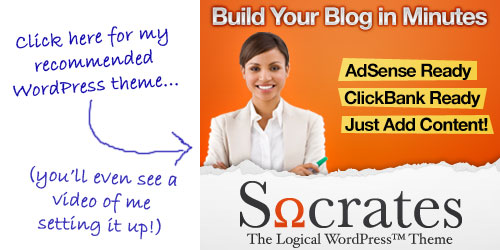 Action steps:
1) Decide if you're going to integrate a blog into your business.
2) Decide which method of direct monetization fits best with your blog.
Remember, I'll be covering the most important points in the next lesson. If you're starting a new blog, wait until you've seen the next lesson before going all out on it.
As always, you are welcome to post your questions and comments below 🙂
Have a great day!