(Part 1 in a series of 4)
Throughout the previous several lessons, I've covered a handful of different ways of building a website. Now it's time to talk about my favorite method!
Today we're going to use WordPress…
(Watch this video…)

Main points:
WordPress = blogging platform and content management system (CMS).

A CMS is basically a system of organizing data for a website.

WordPress is not the only CMS, and it may not be the best one for some types of websites. But it's my favorite CMS because…

1) It's free.
2) It's open source.
3) The plugins!
4) It's easy to install and use.

If your web host uses Cpanel with the Fantastico add-on, you can use the "one click" WordPress installer. (If you want a web host with the one-click feature, please click here – and use coupon code: ERICSTIPSCOUPON)

If you want/need to install WordPress manually, it's still pretty easy (see video for full step-by-step walkthrough)

WordPress site (where you can download the zip file): www.wordpress.org

WP Secret key generator (as referenced in video): https://api.wordpress.org/secret-key/1.1/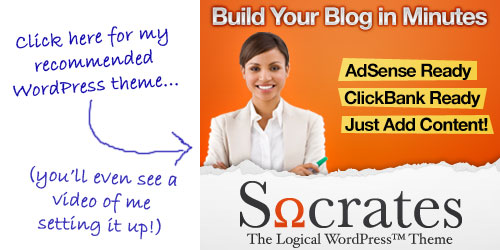 Action steps:
1) Decide if you're going to use WordPress for your website.
2) If yes, install it!
In the next lesson I'll show you what to do with WordPress AFTER you install it.
As always, you are welcome to post your questions and comments below 🙂
Have a great day!