(Part 2 in a series of 4)
In the previous lesson I talked about some of the benefits of WordPress, and I walked you through the process of installing it on your website.
So today we're going to talk about what to do after you've installed it…
(Watch this video…)

Main points:
Start by adding some categories

Posts vs. Pages

– structurally not much difference

– posts are archived and categorized

– examples: lesson #32 is a POST. My products page is a PAGE.

– Use Posts for a series of blog posts, articles, or other content that you add regularly to your site; use Pages for the pages of your site that don't necessarily fit into a blog category.

– You can use parent pages and sub-pages.

– Some marketers claim that Posts are better than Pages for SEO.

WordPress Settings that I Use:

General: I usually do not use a tagline.

Writing: I like to increase the post box to 20 lines.

Reading: Choose a static page for your home page if your site is not a blog.

Discussion: I moderate all comments.

Permalinks: I use a custom structure, such as /%postname%/

Importance of "Nice" Permalinks:

-better for your visitors
-better for search engines

You may or may not want to use the year and month within your Permalink structure. Consider whether it will be better or worse to date your content.

You can tweak the Post Name part of the Permalink URL when you are adding or editing a Post:

-Don't make it too long (I prefer no more than two dashes)
-Use a keyword in it, such as a product name if it's a product review
Disabling the Visual Editor: I prefer to disable the visual editor under the Users >> Profile settings. I like the basic post box better because it's simpler and does not interfere with video embed code.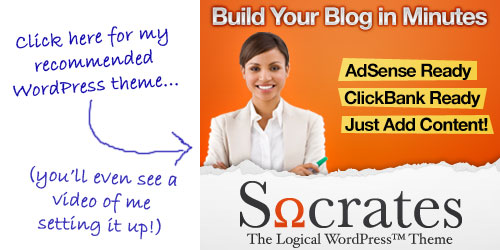 Action steps:
1) Add at least one category and make at least one post, or create at least one page on your WordPress site.
2) Adjust the WordPress settings to best meet the needs of your site.
3) Choose and set up your WordPress permalink structure.
In the next lesson we'll move on to the FUN stuff!
As always, you are welcome to post your questions and comments below 🙂
Have a great day!