Edition #166
UPDATE: This review also applies to the Affiliate Prophet software
I'll admit it… up until now I have been failing at one of the most important aspects of online marketing:
Split testing!
Last summer on the set of The Next Internet Millionaire, one of the teachers said something to our contestants that really stuck with me.
He said, "a lot of people call themselves marketers, but they're not even split testing!"
Since I've never been very keen on testing, I sort of let the statement bounce off me, and wrote it off as being an extremist viewpoint designed to prove a point.
But in the back of my mind it's been nagging at me… after all, I DO call myself a marketer, and yet I've done very little split testing.
Quite honestly, the primary reasons that I haven't made more of an effort to start split testing are:
1) It seemed complicated and intimidating to me
2) It seemed NOT fun
3) I didn't think I really needed to
After all, why should I put forth the effort to split test variables when I've always made a good living just doing what I do naturally?
Boy was I wrong.
An Eric's Tips reader named Peter Yoon has developed a very powerful split testing program called Conversion Prophet, and I decided to give it a try on a recent product launch with Joel Comm.
The results were nothing short of fantastic.
Not only did Peter's Conversion Prophet software make all the difference to our launch, but it has forever changed the way I look at Internet marketing.
Using this program we were able to DOUBLE our conversion rate in one day.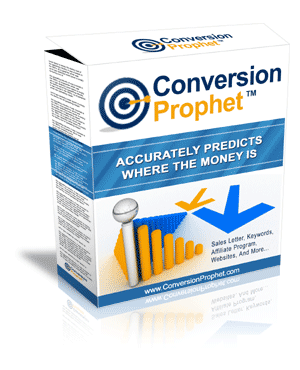 What I learned is this…
Even if you THINK you have your target audience figured out, there are various on-page factors that can affect the conversion rate, and the ONLY way to determine the best set of variables is to split test it.
I shudder to think of all the profits that I've left on the table over the years. If I could just go back and split test all my products, and increase the conversion rate by a mere 1%, I'd be much wealthier today.
So obviously I answered my own question as to why split testing is so important.
But here's the kicker…
It was EASY and FUN!
I installed the program in under 10 minutes, and was seeing results in the statistics area almost immediately. Peter designed it with the user in mind, and it has a very simple, easy-to-understand interface.
And what surprised me more than anything is how fun it was. Because of the intuitive "pre-conversion" statistics that are built into the program, you can start seeing results right away, even if you're not getting very much traffic.
To be able to get that kind of instant feedback and make adjustments to improve the page was very gratifying.
Here are some of the things that I was able to determine in one day:
the headline with less "meaning" and more urgency kept visitors attention better.
blue headline kept their attention better than red.
blue and red subheadlines throughout were almost same performance, but blue was slightly better.
black background was the worst by far. White was in between. Blue and grey were close for the best, but grey was the best.
I tried cutting out the introductory sales copy and jumping right into the action, and it converted much worse (which was surprising).
autoplay of the video slightly beat the non-autoplay.
testimonials scattered throughout the sales letter were much worse than testimonials clumped together (I think this is because the testimonials broke up the flow too much).

Now, you might be able to glean some tips from those results, BUT the thing you need to understand is that it will be DIFFERENT for each market, and for each product you sell/promote.

In other words, you need to TEST IT FOR YOURSELF. For example, just because someone has told you that such-and-such background color is the best, that doesn't mean it will be the best for your situation!

If you're not split testing, then you are marketing in the dark (like I used to do). I recommend grabbing a copy of Conversion Prophet and I think you'll be enlightened to a higher level of marketing, as I have been.

There are two versions of Conversion Prophet available; the regular version, and the Pro version. The only difference between them is that the Pro version includes the ability to do "Taguchi/Multivariate" testing.

The advantage of the Pro version is being able to test more variables simultaneously with the Taguchi method, and thus get quicker results. In most cases, I think the regular split testing is just fine. So it just depends on whether you want to test a lot of things at one time, and if you need to do it quickly.

By the way, Conversion Prophet is also designed for PPC and affiliate marketers, and you will see testimonials from other marketers who have drastically improved their PPC costs as a result of using it.

Peter has made a HUGE discount available for Eric's Tips readers, and you can get it by going to this page:

Click here to go to Conversion Prophet…

He's giving it to you for less than HALF of the full price, so I recommend getting it through this special offer today.

I won't go so far as to say you aren't a "real marketer" if you're not split testing, but you're definitely missing out if you're not doing it.

As always, you are welcome to leave your comments here on the blog.

Have a great day!