Happy Thanksgiving! I realize that only about half of Eric's Tips readers are in the USA, but gratitude transcends all borders.
First, I want everyone reading this to know that I'm thankful for YOU. Without you, Eric's Tips wouldn't exist.

Here's a small free gift as a token of my appreciation. It's a 49-page ebook that I paid to have ghostwritten awhile back, but I never got around to launching it.

I literally paid $600 for it, and it's been sitting on my hard drive ever since. It's never been released until today.

So I'm going to let you download it for free WITH Master Resale Rights. I even left it white-label (didn't put my name on it), so you can sell it or add it as a bonus to any product.

Click here to download… (PDF file)
Next, here is the 5th annual Eric's Tips Thanksgiving contest!
Wow, this is the 5th year we've done this!
It's a good thing to express your gratitude for what you're thankful for. In fact, it's been shown to have health benefits.
So once again, we are going to do a group exercise to demonstrate our thankfulness.
All you have to do is post a comment below saying something you're thankful for. It could be one word, or it could be much more… it's up to you. If you need some inspiration, feel free to check out the comments from the past four years: 2011 | 2010 | 2009 | 2008
Here is something I'm thankful for…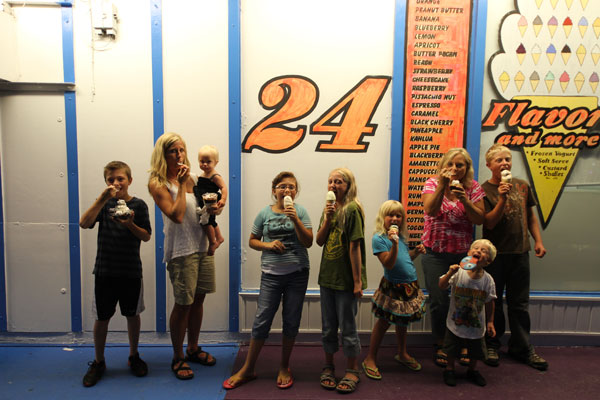 (My wife, 5 kids, 2 cousins, mother-in-law, and 24 flavors of frozen custard. This was a fun day on one of our road trips, and was a special time because it was the last day we saw my wife's grandfather before he died.)
Please post a comment below and let us know what you're thankful for 🙂
Have a great day and a happy Thanksgiving!
Updated: Winners!
Here are the 10 winners which where chosen at random using a web-based randomizer. If you're on the list, you'll receive an email from me regarding your prize.
Shirley pickson—-@——-.co.uk
Jahnavi janisanj@—–.com
Donna Johnstone
Myra magenisia@—–.com
Diana dlbusby–@——-.com
Errol Eardly
Cassie Cholaki
Cynthia Silas
Mark mcooll@——-.net
Billy billyjack@———-.com
Congrats to the winners!