(Part 3 in a series of 4)
In the previous two lessons, we've been talking about WordPress. Lesson #33 covers getting started with WordPress. Lesson #34 covers several of my recommended WordPress settings. And now we're going cover the fun stuff!
(Watch this video…)

Main points:
One of the great things about WordPress is that you can instantly change the look of your site by changing the theme.

-There are hundreds of free themes at: http://wordpress.org/extend/themes/

-A nice thing about selecting a theme from the WP site, is seeing if it is compatible with the latest version, seeing user comments, etc.

-Tip: If you intend to do very much customization to your theme, you might want to choose one that is NOT heavily dependent on graphical design.

-Advanced tip: web designers may submit their own theme to WP's directory (see guidelines first). This could result in exposure from thousands of downloads and back links.

-There are also thousands of 3rd party themes for sale and for free.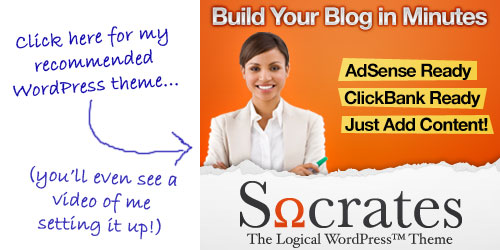 I like to keep a copy of all of my WordPress themes and plugins on my computer, organized in a parallel structure to that on my website.

(See video for demo of installing themes and plugins)

WordPress Plugins: http://wordpress.org/extend/plugins/

Plugins that I currently use:

Akismet
All in One SEO Pack
Dofollow
Ajax Comments-Reply
Flickr Photo Album
ShareThis
UPDATE: I no longer use the ShareThis plugin, and now I use Simple Facebook Like Widget. For more information, see this post about Facebook plugins

Adding ads, such as AdSense, to WordPress

There are three main ways…

-You could use an AdSense-ready theme (such as an AdSense template, or search the WP themes directory for one)

-You could use an AdSense WP Plugin, such as Adsense Manager (search the Plugins directory for AdSense). In general, this would be my recommendation.

-You could add it manually to your theme (for example you could insert your ad code into the header.php, sidebar.php, or single.php files)

Action steps:

1) Choose a theme for your WordPress site and install it.

2) If you're going to allow comments, activate the Akismet plugin.

3) Explore the other plugins.

In the next lesson, we'll look at how to customize your WordPress theme.

If you need help, please check out the forums at: http://wordpress.org/support/

As always, you are welcome to post your questions and comments below 🙂 Feel free to let us know your favorite themes and plugins!

Have a great day!