In the previous lesson, we talked about how to obtain and add graphics to your website.
Today we're going to put your website into motion by adding video to it.
(Watch this video…)

Main points:
Video is one of the most important forms of content on the Internet.

Most Internet users can now stream video (and the quality keeps getting better).

Ways to put video onto your website…

1) An embeddable video from a 3rd party source.

– Easiest way to put video on your website.
– Hundreds of sources, including niche sites with videos for syndication
– Free video hosts like Youtube, Vimeo, Veoh, blip.tv, Revver, Tangle, Flickr, Facebook, etc.

-See video for demo of embedding a Youtube video on a WordPress blog.

2) Your own "live action" video.

– Most complicated method… you have to shoot it, transfer it, edit it, encode it, etc.

– Can be very expensive (ex. $4,000 HD camera, $1300 Final Cut Studio, $700 Adobe Flash, etc)

– Can be done very cheaply. Try the Flip Video camera ($50 – $200)

-Two ways to embed it:

a) Upload it to a video site like Youtube, and then embed it on your website.

Easy to do, but free video hosts have some downfalls including…
– Looks less professional
– Displays ads (overlay on video, or at the beginning/end)
– Links to the video host

b) Convert it to flash yourself, and then embed it on your website

– Free tool: FLV Producer Lite
– Free flash player included in the above tool, or you could try JW FLV Player

If you're doing a lot of heavy video streaming (1000's of viewers), I recommend upgrading to a dedicated server or else try Amazon S3 to host your video files.

3) Your own screen capture video.

– Great for teaching
– Effective for selling

– I use Camtasia Studio from Techsmith (Approx. $300)

– For Camtasia tutorials see: http://www.techsmith.com/learn/camtasia/default.asp

– (See video for walkthrough of my recommended Camtasia settings)

– Cool tool from Techsmith to make casual screen capture videos on the fly: http://www.jingproject.com

– Free screen capture software: http://www.CamStudio.org

– Better than the free version: http://www.CamStudioPro.org (only $29)

Recommended resource: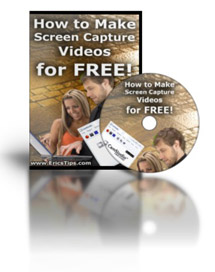 Click here for more information…
(A four part video series teaching exactly how to create your own screen capture videos for free.)
Action steps:
1) Think about how you can incorporate video into your online business.
Ideas: Blog content, teaching series, intro video, video sales letter, explain checkout process, give your guarantee, explain email opt-in process, testimonials, squeeze page video, exit pop video, etc.
2) Add a video to your website!
In the next lesson we'll be looking at how to put audio onto your website.
As always, you are welcome to post your questions and comments below.
Have a great day!
Tweet