In the previous lesson we looked at how to build a squeeze page.
Today we're going to make our squeeze page potentially better by adding audio or video to it…
(Watch this video…)

Main points:
Audio can add impact to squeeze page and sometimes increases conversions.

For maximum attention-getting impact, it must be set to auto-play.

See lesson #42 for more on adding audio to a page.

Video squeeze pages have become the standard. (But still needs to be split-tested)

The video replaces the "benefits" listed on a text-based squeeze page.

See video above for demonstration of embedding video, see also lesson #41

(See video to see how to set Youtube video to autoplay)

RECOMMENDED PRODUCT: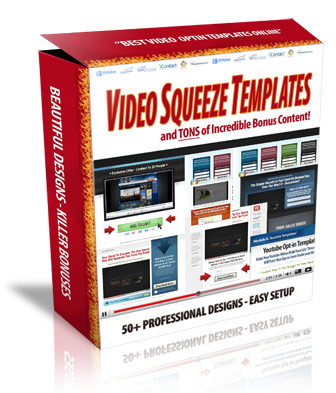 Hot Video Squeeze Page Templates from Dan Nickerson
Here is an actual comment left by an Eric's Tips subscriber in the member area of Dan's site shortly after I posted this lesson:
"Dan please slap me, I'm still in shock! I'm looking over my shoulder to see if anyone saw me purchase this package… I feel like I STOLE IT! Not only did you come highly recommended (Eric Holmlund) but your products and videos are top quality. I am truly grateful. I honestly read every word twice before pulling the trigger on this though, I was trying to find the "catch"! A thousand thanks to you Dan, you truly are 'The Man!'"
Action steps:
1) Decide if you're going to add audio or video to your squeeze page (even if just to test it).
2) If yes… make it happen!
We're not quite done with the topic of squeeze pages, because we do have a few advanced techniques to cover in the next lesson.
As always, you are welcome to post your questions and comments below, and be sure to show us your audio/video squeeze page!
Have a great day!